What is the Concrete Batching Plant Capacity
The Capacity of the Concrete Batching Plant is the direct factor affecting its price, it is refer to how many cubic meters of concrete can be produced per hour. There are many options for the capacity of the concrete batching plant as per the different construction projects. Capacities are range 200m3/h from 10m3/h, for small house building, 20m3/h is suitable and for significant infrastructure projects, above 120m3/h capacity can meet the demand.
Different Types of Concrete Batching Plant Capacity
In addition to selecting the appropriate production capacity according to the construction conditions, it is also necessary to combine the availability of the concrete batching plant. We mainly produce two kinds of concrete batching plants, stationary concrete batching plants, and mobile concrete batching plants. We additionally also have a smaller version of the mobile type batching plant that calls it a mini or portable concrete batching plant. According to the capacity, the concrete batching plant is mainly classified as HZS25 m3/hr, HZS35 m3/hr, HZS50 m3/hr, HZS75 m3/hr, HZS90 m3/hr, HZS120 m3/hr, HZS180 m3/hr, HZS240 m3/hr.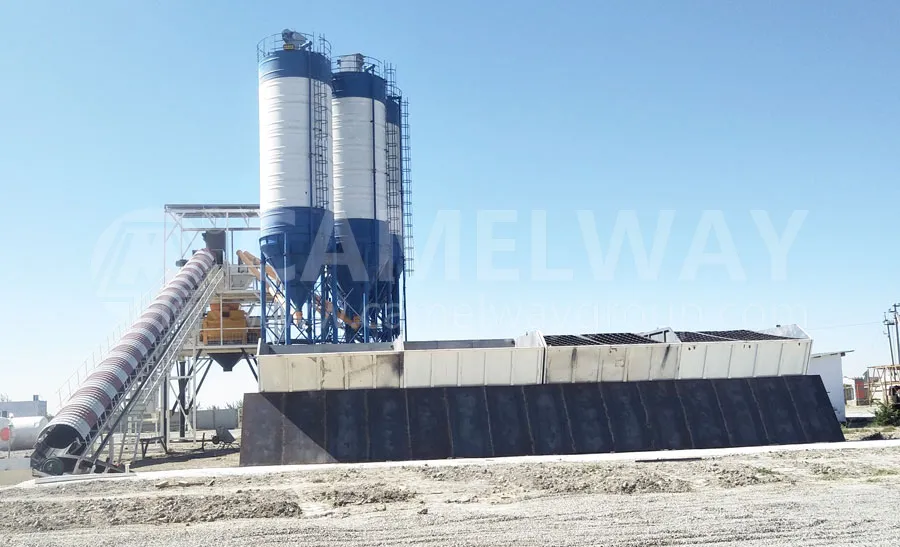 How to Choose Concrete Batching Plant Capacity
Camelway equipment is widely used commercially in different projects. Some distinct advantages are its user-friendly design, reliable structure, versatility, containerized design concept, advanced control systems, etc. All our concrete plants have superior features, high automation facilities, high accuracy, trouble-free operation, and excellent mixing effects in a short time. When we offer high efficiency, low energy consumption, and use top-quality components we become the first preferred choice of customers.
The range of concrete batching plants that we offer are:
Stationary type – 30 to 240 m3/hr.
Mobile type – 20 to 90 m3/hr.
Portable type – 10 to 30 m3/hr.
Mini batch plant – 8 to 15 m3/hr.
Concrete Batching Plant for Sale
Concrete Batching Plant for Sale has wide usage applications like dam construction, road construction, bridge construction, buildings construction, airport construction, municipality construction. They can also be used for smaller jobs that involve a small amount of concrete. Thanks to the combination of optimum capacity offered and the advantages of the compact and modular transforming design, Camelway series concrete batching plants are in high demand all around the world. As a pioneer of technological innovations in the concrete industry, Camelway is and always will be providing the best service available for its customers within the globe.