35m3/h Concrete Batching Plant in Tanzania

With the most advanced production technology in the industry, Camelway was once again chosen by Tanzanian customers. The company has achieved 30m3 per hour production capacity by choosing 35m3/h Concrete Batching Plant which is designed and produced in accordance with environmental laws. The plant is easy to operate, that can start producing quality concrete within a few hours after being assembled. This is a profitable investment that will soon pay for itself.
35m3/h Concrete Batching Plant For Sale
HZS35 concrete batching plant is composed of a twin horizontal shaft concrete mixer, aggregate batching and weighing system, aggregate conveying system, cement silo|cement tank, screw conveyor, PLD batching machine, intelligent computer control room, metering system, pneumatic controlling system, and other components. HZS35 concrete batching plant has theoretical productivity of 35 cubic meters per hour; the main mixing machine is JS750 type forced mixer with a nominal capacity of 750L; the batching capacity of batching machine is 1600L, the maximum productivity of screw conveyor is 45t/h, and the maximum particle diameter of aggregate is 80mm.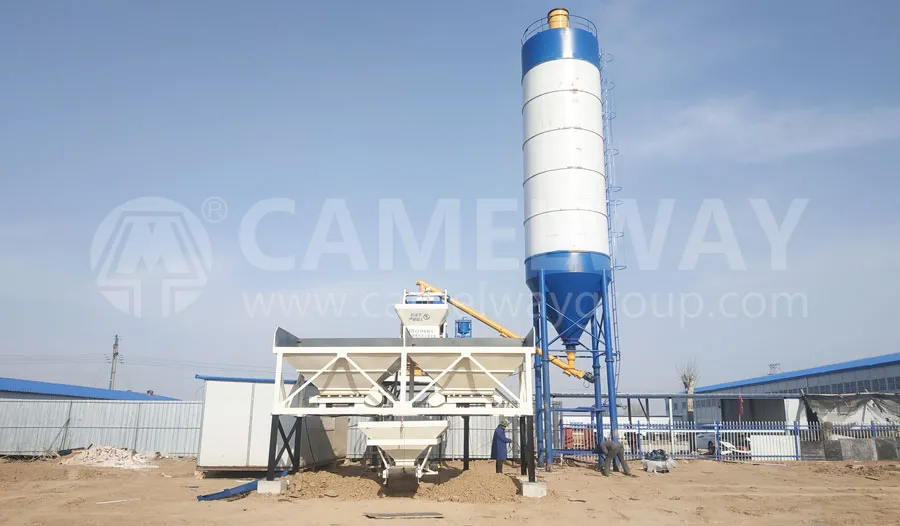 35m3/h Concrete Batching Plant Features
The powerful twin-shaft mixer is equipped with adjustable mixing arms with robust mixing shovels and side scrapers, providing a short cycle time and a high, uniform concrete quality. High quality is also ensured by the integrated control system, which controls and monitors all processes and connected equipment e.g. a belt conveyor and/or cement silos. All wearing parts are produced with robust materials and can be replaced separately, which minimizes operating costs. There is free access to all of the plant functions, facilitating daily cleaning, maintenance and service.
35m3/h Concrete Batching Plant for Sale in Tanzania
Camelway is constantly striving to be at the forefront of manufacturing machinery developments for the concrete industry. As one of the most popular versions in Tanzania, 35m3/h concrete batching plants are consistently maintained superb craftsmanship for clean and green concrete production. Camelway has formed a team of talented, expert staff, who are committed to a common project and who have the experience and training required to ensure the concrete batching plant is conducted using the latest technologies and following the latest trends.