Stationary Concrete Batching Plant
Stationary concrete batching plants are used for long-term projects or permanent facilities. It is designed to run well with the highest reliability and intensity in the harshest environments.
Most experienced concrete contractor will choose a stationary concrete plant to complete their work, because it provides the largest production capacity and the longest working time. Besides, its immense flexibility help to extend plants at any time.
Camelway stationary batching plants are equipped with twin shaft concrete mixers or vertical shaft planetary mixers, with over 20,000 hours of trouble-free operation time, and are widely used in various projects, especially for massive infrastructural and precast concrete projects.
Camelway also provides stationary batching plants equipped with two mixers which will double the production capacity and is suitable for larger projects.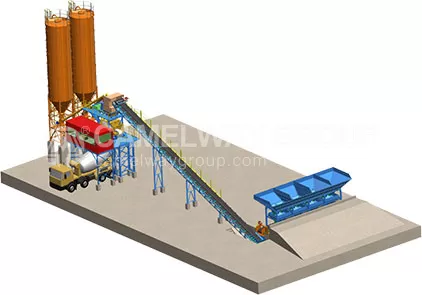 Camelway Stationary Batching Plant Advantages
Simple structure, low failure rate and easy to maintain.
Suitable for long-term, high-load operation.
Modular structure, flexible configuration and easy to expand.

Have the ability to produce a variety grades of concrete by replacing components.
The skip hoist stationary batching plant has a small footprint, short installation time and easy relocation.
The belt type stationary batching plant has large capacity and low power consumption.
Have a variety of optional components to meet production needs under different conditions(Heating and heat preservation module in winter, cooling and ice module in summer, etc).