Mixing Plant
Concrete mixing plant is a common industrial facility used for mass production of concrete on construction sites or cities. Generally, we divide concrete mixing plants into stationary mixing plants and mobile mixing plants. Stationary mixing plants are suitable for long-term projects while mobile mixing plants are suitable for temporary projects.
The most commonly used concrete mixing plant in the market is wet concrete mixing plant, the other is dry concrete mixing plant. The main difference between these two types of mixing plants is that dry mixing plants are not equipped with central mixers.
As a veteran manufacturer of concrete mixing plants, Camelway Group offers concrete mixing plants for developing countries since 1983. Camelway's concrete mixing plants are sold to Asia, Africa, Europe, Latin America, and these concrete mixing plants are used in roads, bridges, airports, residential and other projects.
Camelway conducts business in developing countries and is committed to helping users reduce costs and increase profitability through safe, reliable, and cost-effective equipment.
Camelway Concrete Mixing Plant Advantages
Accurate measurement and high compliance rate.
Fast production efficiency and convenient maintenance.
Intelligent sensor device, explosion-proof warehouse.
Low operating cost, in line with environmental protection standards.
Concrete Batching Plant Configuration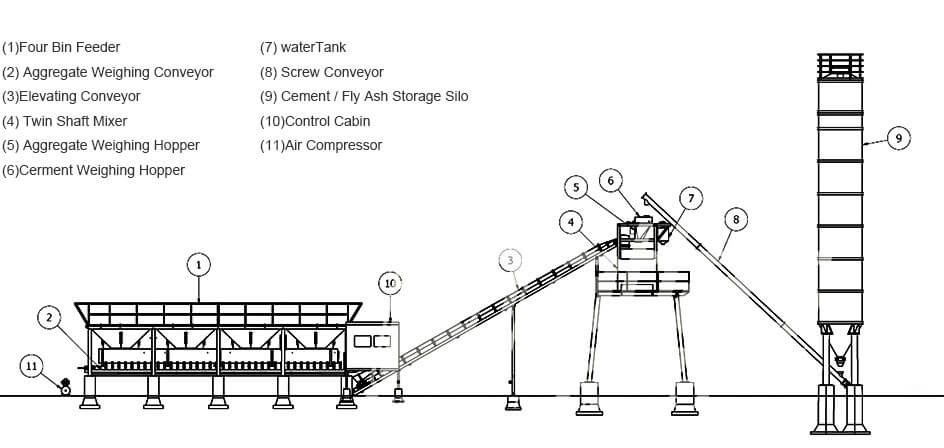 Capacity:

15 - 35 m³/h

Power:

120KW

Container Qty:

>40HQ*1

Price Range:

16500 - 50000USD

Small Concrete Mixing Plant is a mixing plant specially meeting the needs of small projects which has the advantages of low investment cost, small footprint, convenient installation, etc. It is a small but complete concrete production facility, can be equipped with automatic or semi-automatic control system. Camelway'…

Capacity:

40 - 200m³/h

Power:

40 - 200KW

Container Qty:

> 40HQ*1

Price Range:

16000 - 200000USD

Dry Mix Concrete Batching Plant is one of the type of concrete batching plant that used to produce ready mix concrete in low cost, it is batching the sand, gravel, and cement feeding to a hopper and than all the raw materials are discharged into the truck mixer with the water. At last, all the material mixed and…

Capacity:

200 - 600Ton/h

Power:

60 - 180KW

Container Qty:

> 40HQ*2

Price Range:

30000 - 120000USD

Continuous Mixing Plant use to mass production of cement mixtures or zero slump concrete. It is often used in pavement engineering to produce cement stabilized soil, cement-stabilized macadam, roller compacted concrete, etc. Unlike Batching Mix Concrete Plant, the continuous mixing plant uses continuous mixer to mix…