Camelway, as a leading enterprise in China, has already cooperated with various companies all over the world. Our main products include but not limited to all cement-related products such as concrete batching plant, concrete mixer, concrete pump, block machine, etc. In this article, we will mainly discuss self-loading concrete mixer that we export to Nigeria.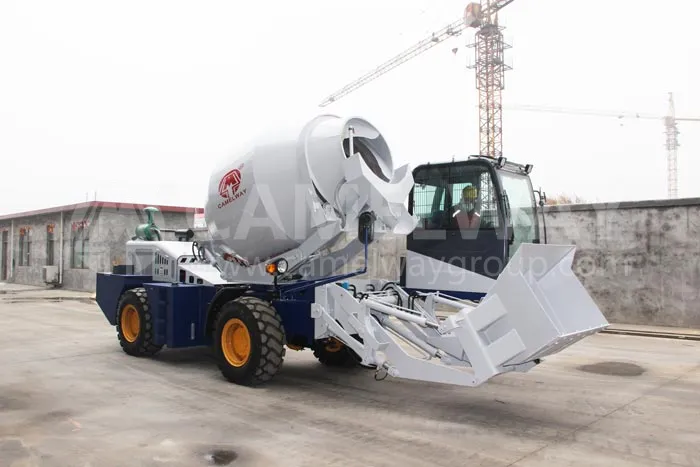 Advantages of Self-Loading Concrete Mixer
Multi-function. The operating of self-loading concrete mixer will reduce other equipment's using because self-loading concrete mixer is able to complete loading, mixing, unloading, and transportation independently
Cost saving. The equipment cost can be saved because self-loading concrete mixer is multi-functional. You do not need to purchase extra equipment like mixer, loader, etc.
High mobility. Self-loading concrete mixer is able to go anywhere with its four wheels depends on place requirement.
Why Nigeria Company Choose us?
First, we have the most competitive price about self-loading concrete mixer. Therefore, the total price that you get is way much lower than the product in local. Second, you should know that lower price does not mean bad quality. We guarantee our self-loading concrete mixer which has top quality in the world.Third, Camelway has set a branch office in Nigeria. Company in Nigeria is able to contact them directly. In addition, Camelway already shipped some products to branch office which means shipping time will be saved.
Self-Loading Concrete Mixer Price in Nigeria
The price is varied depend on what capacity and configuration that you need. Also, we have listed the approximate price on self loading concrete mixer page, and you could go to take a look. After we receive your specific request, we will send a detailed list to you about the final price.In addition, here is our self loading concrete mixer in Philippines branch.
Where to buy Self-Loading Concrete Mixer in Nigeria?
You could contact us by any contact way such as web, Email, Cell, etc. As long as we receive your quotation, we will reply you in 24 hours. So, feel free to contact with us.