The mobile concrete mixing plant 35 cbm is a mobile construction equipment for the production of concrete and cement mix, mainly aimed at construction companies that carry out periodic construction of facilities located far from infrastructure and transport networks, or directly at the construction site.
The mobile concrete mixing plant 35cbm consists of a main frame, a js750 twin shaft concrete mixer and aggregate bins. The concrete batching plant can be installed within 1-2 days. The 35cbm mobile batching plant is used for the construction of bridges, agricultural structures, oil and gas facilities, dams, highways.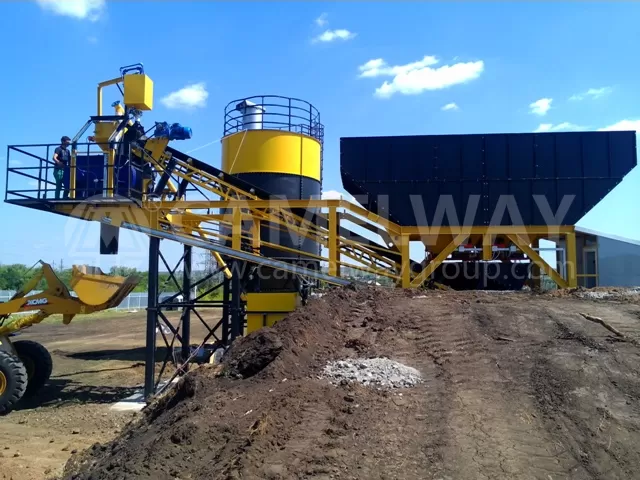 A twin shaft concrete mixer JS750 with an output volume of 0.75 m3 is installed in the mobile concrete plant as standard. At the request of the customer, the mobile concrete batching plant can be completed with the Italian Sicoma concrete mixer of various types, depending on the requirements for concrete mixtures.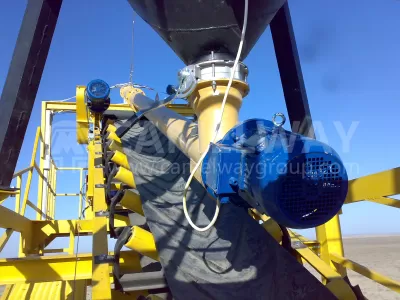 The mobile batching plant 30cbm is equipped with a screw conveyor made by Camelway, the use of a cement metering screw allows the material to be gradually and evenly fed into the cement meter, ensuring high metering accuracy of the amount of material weighed. The cement is weighed directly in the batcher. By means of sensors, the cement batcher of the mobile batching plant is equipped with a valve, which ensures the necessary tightness during batching. To prevent sticking on the walls and ensure free discharge of cement, a vibrator is installed on the hopper.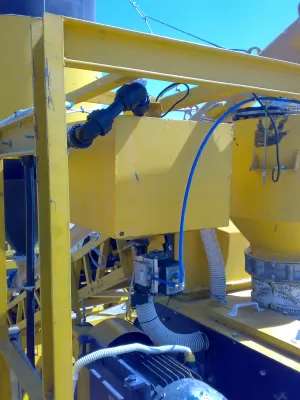 When the 36 cbm mobile batching plant running, the water consumption is about 5-6 m3/hour. In the standard configuration, water dosing is carried out from an external supply system. By means of an automatic valve, at the request of the customer, the mobile batching plant can be equipped with a water supply tank with a dosing pump. Weighing of the required amount of water is carried out in a dispenser suspended from the structure on a strain gauge. A valve is installed on the dispenser to discharge water into the mixer through a large-diameter branch pipe, providing a high flow rate.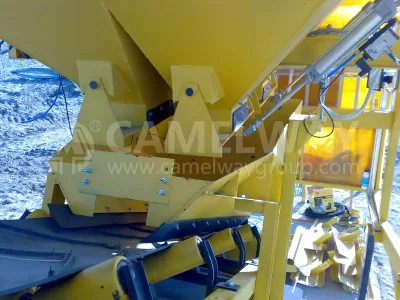 Crushed stone, sand is dosed through the hooper in the aggregate batcher. Aggregate bins of the concrete plant are equipped with vibrators. A chevron belt, rollers, bearings and a gear motor with a general industrial electric motor are installed on the conveyor. Use of a conveyor for supplying aggregate to a concrete mixer has a number of undeniable advantages. The loading of the concrete mixer is carried out evenly and gradually, which positively affects the performance of the mixer. When loading crushed stone and sand, the concrete mix is already mixing, the maintenance of the conveyor is much easier compared to a skip hoist, the conveyor is much more reliable than a skip in its design.