What is Dry Mix Concrete Batching Plant?

It sounds inconceivable that concrete can be mixed without water, but the emergence of a dry mix concrete batching plant turns out to be. Perfect matching between the dry mix concrete batching plant and the mixer truck can increase productivity and save time. As there is no mixing system like wet mixing plant owned, the dry mix concrete batching plant ingenious overcomes some inherent defects of the wet one has, which is suitable for the working conditions of the wet mix concrete batching plant, but also for extreme conditions such as high temperature, highland, high altitude and long transportation distance.
Places Where Dry Mix Concrete Batching Plant Used
If the site is quite long distance, it is an ideal choice for dry concrete batching plant manufacturers. The particular thing about dry mix concrete batching plants is that the materials are mixed without water. While the mixer truck goes to the construction site, it may keep the rotation order to prevent tampering, hardening of the mixed concrete and to ensure the freshness of the materials. Dry mix concrete batching plant is wide-welcomed modern concrete production equipment that is constantly significantly assisting in the development and development of modern roads, bridges, and various concrete construction works.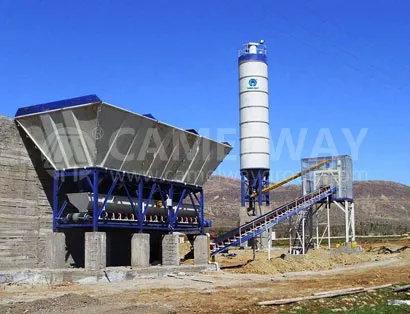 Features of Dry Mix Concrete Batching Plant
High production performance, lower energy consumption.
Lower costs of maintenance are required.
Cutting-edge mixing concrete technology.
Shorten the construction, enhance productivity.
Top-quality components from leading international brands.
Outstanding reliability to produce dry concrete.
Decrease extra business expenditures.
Environmental protection design.
Applied for all kinds of harsh construction conditions.
Dry Mix Concrete Batching Plant for Sale
Camelway dry mix concrete batching plants for sale are much-popular in many construction fields and have been exported to many countries, such as Nigeria, Zimbabwe, Ghana, Malaysia, the Philippines, Australia, Uzbekistan and other regions.
For years, we have been serving around the world and being at the forefront of the concrete batching plant business, so we enable to provide you with fresh, personally tailored, high-quality solutions for all your construction-related projects. If you feel like you need more information regarding dry mix concrete batching plants, you can contact us online right away. We're always happy to help.