50m3/h Concrete Batching Plant in Sokoto, Nigeria
The concrete batching plant with a productivity of 50m3/h was sent to Sokoto, Nigeria. As a primary producer and exporter of concrete in Africa, Nigeria has ordered hundreds of batching plants of numerous types from Camelway in total. They put up a plant this time with hourly output up to 50 m3/h to meet their demand for residential construction projects. Perfect for small yards and for average concrete production, this 50m3/h concrete batching plant for sale is designed to fit in standard shipping containers, making them easy to transport and handle.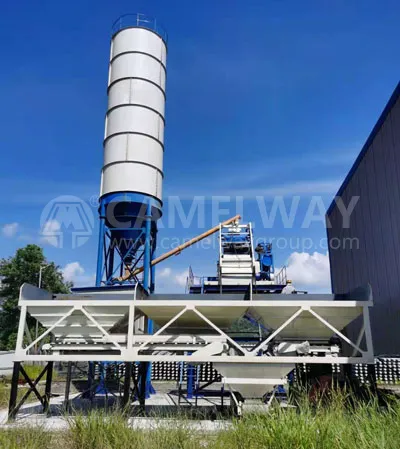 Benefits of 50m3/h Concrete Batching Plant
In the construction industry, a concrete batching plant is one of the most critical equipment. It is an essential machine for all modern contractors. The fundamental purpose of having a plant is to help produce homogenous and uniform batches of concrete. The benefits of 50m3/h concrete batching plant are as follows:
Minimal foundation works
Flexible and adapted to the customers' requirements.
Designed for a non-stop, hassle-free operation, with minimal maintenance requirements.
Saving of space with an integrated control cabin.
Pre-cabled and pre-assembled at the workshop.
Speed of assembling in the site.
Minimum logistics costs associated with shipment and delivery.
Why Choose 50m3/h Concrete Batching Plant in Sokoto, Nigeria
There are numerous types of concrete batching plants to choose from, like stationary concrete and mobile concrete batching plants, which are so popular that we cannot imagine a construction site without them. With the help of mobile type 50 m3/h concrete batching plant chosen by Sokoto constructer, construction workers can do production and delivery within the given amount of time. These machines also allow you to adjust the concrete production depending on the projects' requirement to help you get the most out of it.
50m3/h Concrete Batching Plant Price in Sokoto, Nigeria
The price of a 50 m3/h concrete batching plant is approximately 50000 USD, while the specific price is confirmed according to the actual construction circumstances and solutions accordingly. Camelways' professionals have enough experience to assist you with your commercial concrete needs and construction services for all types of projects, just like this company, located in Sokoto, Nigeria, has high recognition on the concrete batching plant. You can even check our website to look at our impressive portfolio of satisfied clients, proving that we are a premium concrete batching plant manufacturer in the Zhengzhou China area.