Small Concrete Batching Plant in Tajikistan
The Tajikistan company recently has taken delivery of a new Small Concrete Batching Plant manufactured by Camelway Group. Thanks to Camelways' high reputation in Dushanbe, the capital of Tajikistan, it became the first preference manufacturer which this company approached first when they need a small concrete batching plant for this construction project. Even though the small concrete batching plant with enough experience has been exported to Tajikistan several times, a series of processes before and after delivery was still checked scrupulously by our professional person in charge that to ensure delivery safely. Perfect aftersale support and high-quality equipment have brought another loyal Tajikistan customer to us once again.
Small Concrete Batching Plant for Sale in Tajikistan
The small concrete batching plant is ideal for remote sites, suitable for places that require extreme mobility. These machines perform best at sites where space is a constrain and be towed by any suitable vehicle. The small concrete batching plant for sale is easy for installation and operation, any skilled labor with some training can operate safely. The unparalleled quality small concrete batching plants equipped with a twin shaft concrete mixer are working nonstop at many construction sites, which is why it has become a hot product.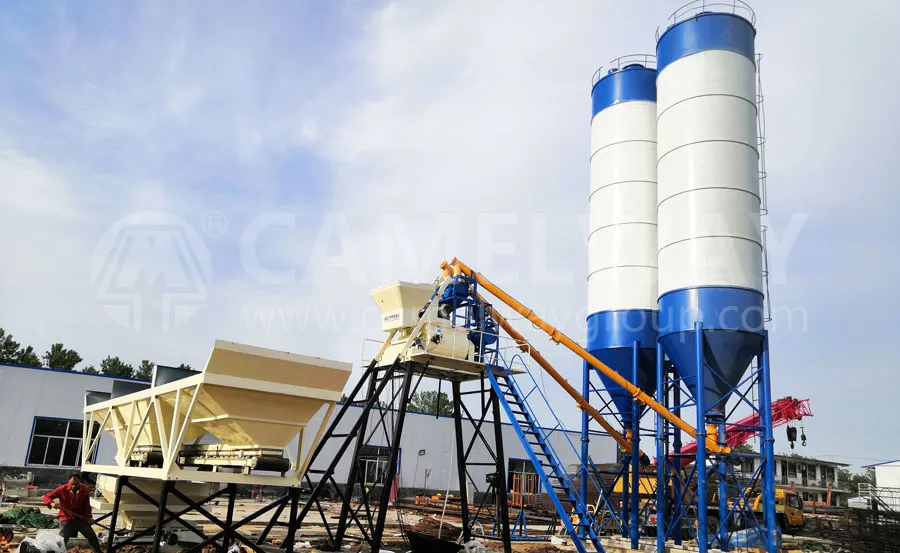 Small Concrete Batching Plant Manufacturer in Tajikistan
Camelway has been a technological leader in the concrete batching plant supply chain with a commitment to safety, machine performance improvement, work productivity increase, and ease of operation. Its HZS series batching plants and WBZ series continuous mixing plants participated in witnessing China's development of infrastructure construction but were also exported overseas to more than 100 countries and regions.
Noteworthy, thanks to in-depth cooperation with many great concrete companies in Tajikistan over the years, with a cost-effective price and versatile products, Camelway has become the essential imported concrete batching plant manufacturer in Tajikistan. This small version of the concrete mixing plant is the most popular in Tajikistan. It stands up to adverse ambient conditions, frequent changes of location, and permanent operation at maximum load in the harshest of construction conditions.
Buy Small Concrete Batching Plant in Tajikistan
To buy small concrete batching plant, you can contact us online right away, and our professional representatives in Tajikistan are always ready to help you regarding all your concrete batching plant related queries.