Mobile concrete batching plant is as popular as other countries in Malaysia, which is widely accepted in Malaysia due to its lower cost and wide range of applications, especially in remote areas.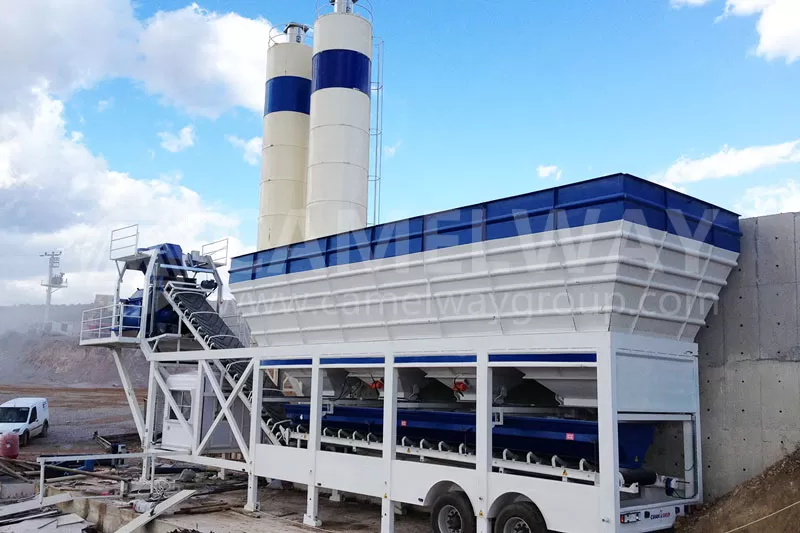 Mobile concrete batching plant. The actual production rate of 25-90 cubic meters per hour enables you to make large fillings or provide concrete for multiple objects. PLD batching machine 4x 22.5 m3, inclined conveyor-all necessary units are located on one frame, thus reducing the time to install and prepare the mobile concrete batching plant.
Advantages of mobile compact concrete batching plant
Very fast installation, reinstallation and movement
Use the feed conveyor to transfer the ready-mixed concrete to the concrete mixer truck
Use large bug bags or compact cement silos depending on the delivery volume
Fully automatic system allows you to obtain a homogeneous concrete mixture
Due to the compact structure, maintenance and repair can be carried out quickly, and at the same time
We delivered 103 concrete batching plant across Indonesia
The concrete batching plants delivered in Indonesia include mobile concrete batching plant, small concrete batching plant, compact concrete batching plant, and stationary batching plant
How to buy a concrete batching plant in Indonesia
If you bought our concrete batching plant, we will give you the best service, pre-sale service, on-sale service and after-sales service. In the future, we will also establish a branch in Indonesia for providing you with better after-sales service and support! Please feel free to contact us at any time!