Due to the short construction period and strong mobility of many projects, Camelway Machinery has launched a foundation-free HZS concrete batching plant. Foundation-free concrete batching plant is a kind of concrete production equipment that does not need to be used as a foundation. It is more convenient for customers to produce concrete. Today we will briefly introduce what is foundation –free concrete batching plant and its characteristics.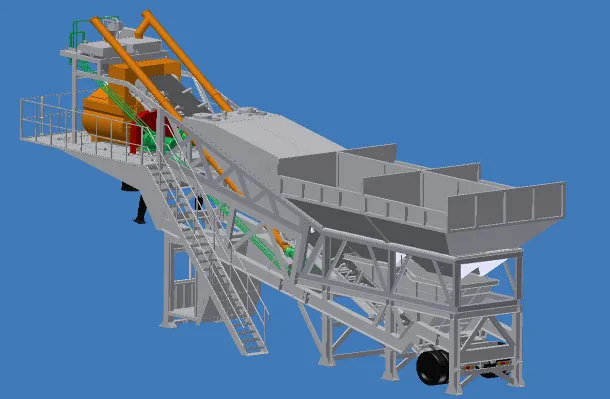 What is Foundation-free Concrete Batching Plant?
Foundation-free concrete batching plant consists of aggregate batching system, lifting hopper, mixing unit, metering unit, water admixture tank, control room, air control system, electrical system and other parts, characterized in that the equipment is modular design. And the aggregate batching system is placed on a large chassis, connected with the mixing unit through the middle rail frame, the water admixture box and the control room are connected together, placed in the lower part of the mixing chassis, as the equipment leg, the mixing unit is connected by bolts.
In fact, the foundation-free concrete batching plant is not completed without the foundation. The ground also needs to be hardened, and there is still a shallow foundation below the ground. Of course you do not need a foundation as deep as a stationary concrete batching plant. The foundation-free concrete batching plant can save the process of designing and installing the foundation, which greatly saves the time and foundation cost of building the concrete batching plant for customers.
The Characteristics of Foundation-free Concrete Batching Plant
Cables, waterways, and airways use quick-plug connectors, which make the equipment quick and easy to install.
The equipment does not need to be made complicate foundation, as long as the ground hardness and flatness meet the equipment requirements, basic foundation can be avoided.
The storage management is simple, the degree of automation is high, and it is flexible and convenient, which reduces the basic production cost of the traditional concrete batching plant.