Concrete Batching Plant for sale in Tajikistan
The customer is from Tajikistan, where popularity of CAMELWAY is rapidly growing. In 2019, I ordered two concrete batching plants:
Compact Concrete Batching Plant for sale in Tajikistan
Compact 25m3/h concrete batching plant for the production of ready-mixed concrete,
Stationary Concrete Batching Plant for sale in Tajikistan
as well as stationary 90m3/h concrete batching plant for precast concrete production, which has recently been commissioned.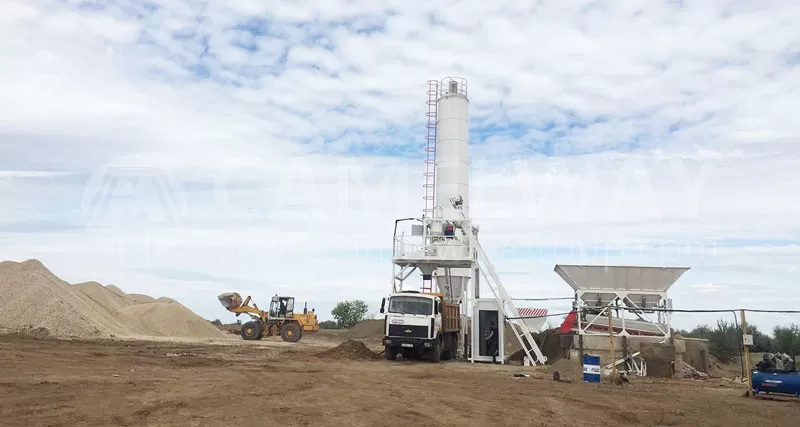 High-quality concrete batching plant & concrete mixer
The concrete batching plant is to be incorporated into the line for the production of reinforced concrete American production and has in its complete set planetary concrete mixer for 1.5 cu. m on the output of high-quality homogeneous concrete mix to feed the line.
A range of additional components to ensure the production of each replacement in 100% accordance with the recipe, which has been critical in the production of concrete products.
PLC concrete batching plant
Accurate calculation of the amount of water taking into account humidity of materials is produced by the plant's PLC which is specially adapted for production products, based on information received from sand moisture sensors. Dosing system materials with a vibrating feeder provides the most accurate weighing of aggregates for preset, and the sampling device concrete allows you to get a sample of concrete for checking at any time.
Exact weighing of water in the dispenser is ensured by a precise water supply system, and additional adjustment line with counter makes adjustment possible the amount of water directly during mixing.
Delivery of concrete batching plant in Tajikistan
Customers from Tajikistan, where already 18 were delivered this year concrete batching plants, having long appreciated all the advantages of working at CAMELWAY plants: high quality equipment, special solutions depending on projects, well-established logistics and supply of spare parts, as well as prompt after-sales service.