In Sri Lanka, Camelway's concrete batching plant operates on many projects, most of the production capacity is below 90 cubic meters per hour, these concrete mixing plants are the best-selling type, They all adopt compact design, small footprint, strong environmental adaptability, and extremely low failure rate.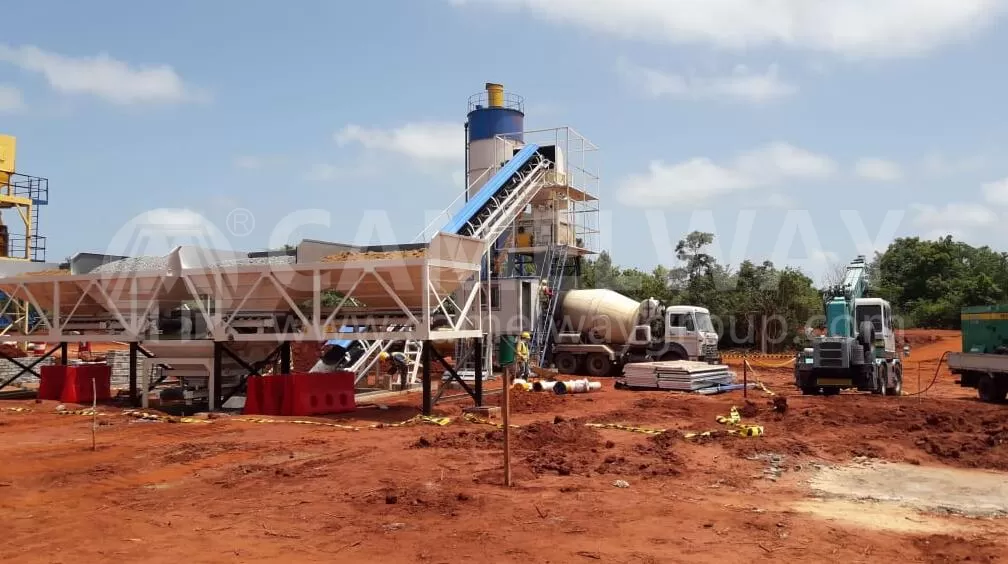 Camelway's Batching Plant in Sri Lanka
The picture above is Camelway's batching plant in a hotel construction site in Sri Lanka. This batching plant model is HZS60, the smallest belt type batching plant which can produce 60 cbm concrete per hour in ideal circumstances.
Batching Plants manufactured by Camelway had sold in many cities in Sri Lanka which applied to residential projects, road&bridge projects and others.
Concrete Batching Plant for Sale in Sri Lanka
Since 1983, Camelway has been designing, manufacturing and selling concrete batching plants and concrete mixers, our concrete batching plants include mobile and stationary type, capacity from 20 to 180 m³ per hour. Camelway offers quality & cost-effective concrete batching plant in Sri lanka.
Mobile Batching Plants

Mobile batching plants are perfect for temporary use, Camelway has a wide range of mobile batching plants, capacity from 25 to 100 m³ per hour. Mobile batching plant can be hauled with a truck.
Stationary Batching Plants

Stationary batching plants produce concrete continuously and steadily, mostly for long-terms project and permanent facility. Construction companies, concrete companies and concrete products companies are preferring this type of batching plant. Camelway's stationary batching plant capacity from 25 to 180 m³ per hour.
Concrete Batching Plant Quote
You can fill in your basic needs through the form on this website, or send us an email. During working hours, after we receive your need, quotation list will be sent within 2 hours. It doesn't matter if you are a novice investor, our experts will help you choose the most suitable solution.