Concrete Batching Plant for sale in India
Construction company from India with 28 years of experience, he has been actively activities for the construction of various civilian objects. His first 100m3/h concrete batching plant was acquired by the company in 2015.
100m3/h concrete batching plant
Three years of successful and efficient operation, customer placed a second order for the equal power 100m3/h concrete batching plant with skip lift. In full were additional customer requirements are met: Batching machine increased to 6x20 m3 , set 3 sand moisture sensor, and chemical dispenser additives represents a system consisting of 5 galvanized containers of 25 liters, which allows the customer to use in production immediately several types of chemical additives, giving the produced concrete necessary properties and improving its characteristics. The concrete batching plant is equipped with 4 cement silos, 75 tons each - this will provide the necessary supply of cement of different grades for smooth operation.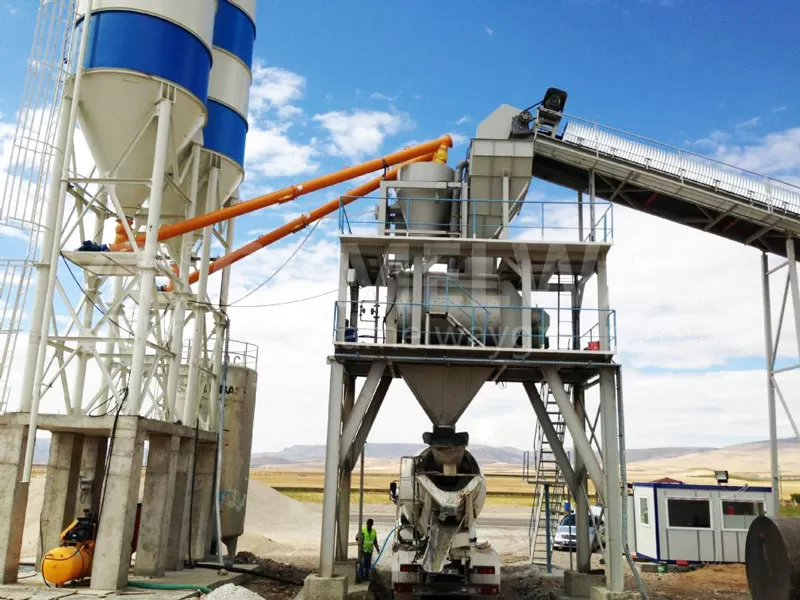 Compact concrete batching plant
Compact concrete batching plant , special configuration concrete batching plant, as well as soil mixing plant will ensure the production of concrete with the required properties. Ready-mix concrete for construction is produced in a compact concrete batching plant, with a two-roll concrete mixer, providing 50 cubic meters.
m per hour of compacted concrete. On the other hand, the production of sidewalk tiles is carried out in the concrete plant, using two planetary concrete mixers with double discharge.
concrete batching plant
This concrete batching plant is also equipped with additional features such as a precision aggregate dosage system and sand moisture sensors to control the amount of water supply.
In addition, a system for ready-mixed concrete has been installed, which includes bins under the mixers and a conveyor system of feeding concrete directly to the vibrocompression equipment, thereby ensuring a continuous and smooth production process.
installation stationary concrete batching plant
The third installation for the project is a soil mixing plant, which is the ideal choice for creating a solid and reliable foundation for the future platform.
It is a stationary concrete batching plant with a continuous concrete mixer, which can produce up to 300 tons / hour of finished gravel mixture. Well-established in the India continent as a reliable manufacturer of high-quality equipment, CAMELWAY clearly reflects the strong position of the global brand in its sector.