Nigeria is a promising country for the construction industry. The population is estimated to have exceeded 2.1 billion people in 2021 of which almost 50 percent reside in urban areas. Rapid urbanization boosts development of economy especially in the areas of infrastructural developments such as housing, roads, railways, power supply, dams. Obviously, as the most popular construction material in Nigeria, concrete plays an essential role in economic development. But, concrete does not occur naturally, it needs to mix the precise proportions of water and cement, sand and additive just right so that a reliable concrete product can be created. This is not a simple mixing process and must have specific mixing equipment to complete, that is the concrete batching plant.

Unprecedented Market Surging for Nigerian Concrete
The Nigerian economy has emerged from recession in the 2020 fourth quarter and a 40% increase in demand in Africa's largest economy in the past seven months, thus concrete producers will ramp up capacity by more than a third to meet Nigeria's burgeoning demand as the economy recovers. Concrete is very versatile and can be designed to withstand any natural threat. Furthermore, it is sustainable and durable, particularly at high temperatures and in humid climate conditions. This situation indicates that concrete technology will play a major role in the future construction industry, well,a cutting-edge mordern technology concrete batching plant is essential in Nigeria.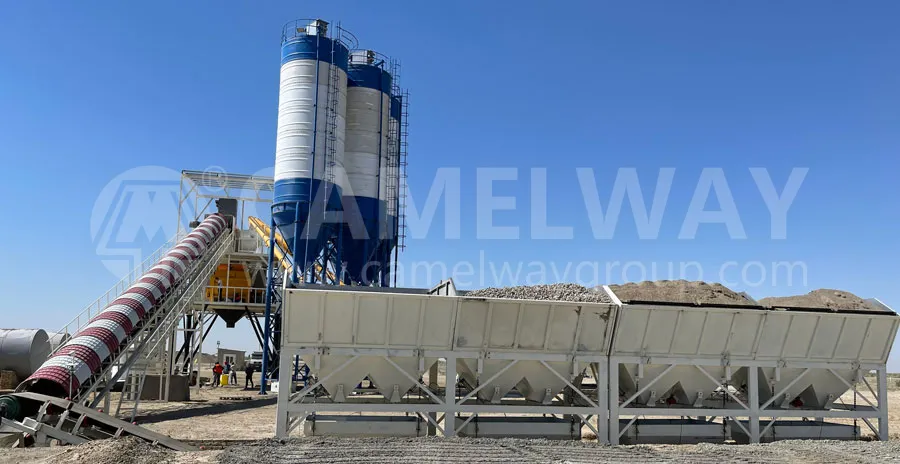 How Many Types of Concrete Batching Plant in Nigeria?
No matter in a construction site or a build contracting plant, many different types of concrete batching plants can be discovered in Nigeria. You may find that these plants are somewhat different, but you still feel at a loss to get the most appropriate one, all right, we're going to discuss those options in this blog. Before that, here's some vital information for your general knowledge.
Despite numerous types, they are mainly divided into three classifications: scale or capacity, application, and type of concrete.
Concrete batching plant by scale
Concrete batching plant can be classified as mobile concrete batching plant, stationary concrete batching plant, and small concrete batching plant, based on the scale or capacity of the plant.
Mobile concrete batching plant
Mobile concrete batching plant has an average production capacity of 30 m3 to 90 m3 concrete per hour, which is ideal for businesses whose work area is frequently changing and need to produce concrete with moderate capacity. It is a compact concrete batching plant, which has material storage, weighing, mixing, discharging, and automatic control system units. With the feature of maximum mobility and quick setup, the mobile concrete batching plant has become most preferred by construction companies for major construction projects.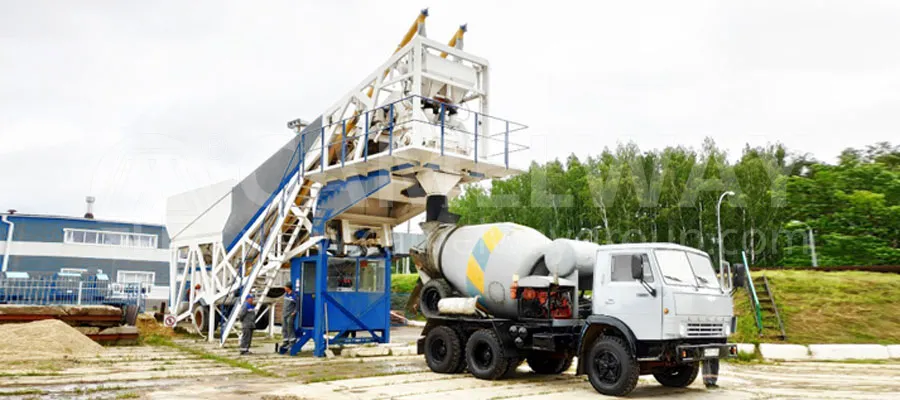 Advantages of mobile concrete batching plant
For mixing, the mobile concrete batching plant employed homogeneous mixing technology equipped with high-performance concrete mixers to cater to diverse and stringent demands of the construction contractors. With that kind of power, you can have the concrete project done in the blink of an eye. Besides, other units such as the admirable precise weighing system, ensure that the mixing is carried out in accordance with the predetermined recipe, so as to meet the concrete quality standards.
For mobility, its ingenious mobile design makes it possible for the concrete batching plant to move untrammeled on working site, and with high compatible production capacity, it can be used for almost all construction projects. Eliminating the high cost of renting a crane, just a truck tractor can take the plant to another construction site easily.
Stationary concrete batching plant
With a capacity range from 25m3 per hour to 180m3 per hour, clearly that the stationary concrete batching plant's most feature is high productivity. The main concept of this version of plant design is to consider maximum capacity, high flexibility, efficiency and reliability, thus it is often applied in a variety of large scale and high-quality concrete production. Thanks to its flexible structure, stationary concrete batching plants can be designed in a variety of ways to meet the needs of the users completely.
Advantages of stationary concrete batching plant
Due to its fixity and high productivity, stationary concrete plants are mostly preferred in construction projects that require high-quality concrete production such as roads, dams, airports and significant infrastucture projects. Considering that the plant will accompany you for a long time in a construction site, durable and long life are its advantages that can be seen everywhere, just like the use of hot-dip galvanizing, to produce huge twin-shaft concrete mixers and high-quality aggregate bins both can ben be proved.
In addition, Stationary Concrete Batching Plants are also used in applications that require special concrete production such as RMC (Ready Mix Concrete), concrete parquet, concrete pipe, prefabricated element production, and hollow concrete floor production.
Small concrete batching plant
The small concrete batching plant as the name implies has a small capacity, usually 10-50 cubic metre per hour. With its easy portability and rapidly installable design and necessity of minimum infrastructure investment, the compact type of plant offers economic advantages to its users. With a compact design, minimum footprint demand, and the lowest investment cost, this version plant occupies an important position in many small-scale constructions.
Advantages of small concrete batching plant
Small body but great accomplishment. Despite the small production capacity, the high mixing performance ensures the quality of the concrete and has low energy consumption, which greatly saves commercial expenditure. What's more, this small mixing plant is very easy to be rent during your idle period so this is a very profitable investment.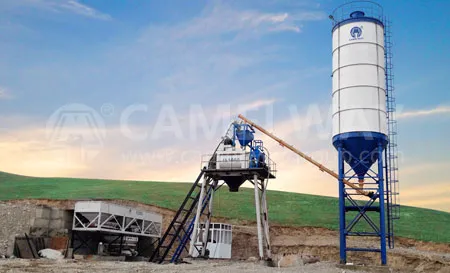 Concrete batching plant by application
As per the application, the concrete batching plant can be divided into ready mix concrete batching plant and on-site concrete batching plant.
Ready mix concrete batching plant
Ready mix concrete batching plant does not produce concrete at the construction site, but specifically in a batching plant, then transport concrete to the site by a truck. In general, it is also called a commercial concrete batching plant, as it is purchased by a construction manufacturer to produce high-quality concrete and sold to construction sites.
Advantage of ready mix concrete batching plant
Because of the type of commercial concrete batching plant, the quality of the mixed concrete will be more elaborated, hierarchical, and concrete products diversified. For concrete producers, it is an investment that will pay off quickly.
On-site concrete batching plant
On-site concrete batching plant is just the opposite version of the ready mix batching plant. It is a plant produced on-site by a construction contractor on a construction site, and its production capacity is usually relatively small. The on-site concrete batching plant has the same advantages as the ready mix concrete batching plant except for the difference in the construction site.
Concrete batching plant by types of concrete
According to the concrete types, the plants can be divided into dry mix concrete batching plant and wet mix concrete batching plant.
Dry mix concrete batching plant
Dry mix concrete batching plant also called truck mixed concrete or dry-batched concrete manufacturing combines every one of the raw ingredients necessary to create concrete with just one exception, water. Trucks replacing the role of the concrete mixer require the dry mixture to be charged directly into the truck mixer then add water. The trucks, which generally have drum mixers will turn the mix during the transportation period, thus combining all the ingredients to generate fresh concrete on site.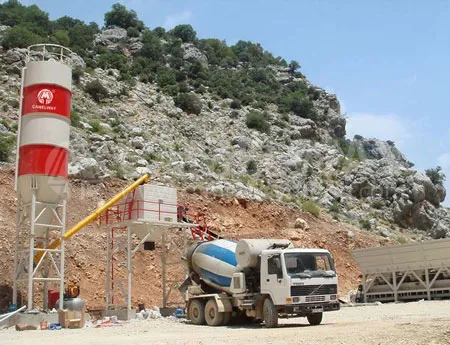 Advantage of dry mix concrete batching plant
Dry mix concrete batching plants have the advantage of requiring a smaller initial investment. Moreover, it is convenient in instances where the premixed concrete would need to be transported to a farther distance to the main construction site. They offer both fast installations and dismantling along with a huge production capacity.
Wet mix concrete batching plant
Wet mix concrete batching plants also known as central concrete batching plants offer a much more consistent product as all the ingredients are mixed in a central location in a computer assisted environment which ensures uniformity of the product. For the wet concrete batching plant, all the ingredients including water will be put into the concrete mixer after weighing, After mixing, the concrete is discharged into a mixer truck to transport the concrete to the construction site.
Advantage of wet mix concrete batching plant
The concrete batching plant produces high-strength concrete suitable for almost all large-scale construction projects. In general demand in the World is for wet mixing plants because the wet concrete quality is obviously better than dry mix concrete.
How to Produce High-quality Concrete
Owning to an increasing requirement for quality in concrete mix design aimed at achieving a quality product, concrete is manufactured in a fully controlled environment with the help of specialised concrete batching plant. The mixture is then delivered to construction sites where they are required by ready mixed concrete trucks so as to maintain its qualities. Concrete in Nigeria is becoming a very competitive business in a well-developed market. Therefore, choosing the right capacity and type of concrete batching plant can get twice the result with half the effort.
Looking for the Best Concrete Batching Plant Supplier in Nigeria?
At Camelway, we specialize in everything related to concrete batching plants. Our subsidiary in Nigeria has large quantities of stock available, and you can order directly in your country to exempt the increasing ocean freight. Simply put, ordering concrete batching plant from us will reduce business expenditures, speed up the construction work and reward you with high profit. We have highly skilled experienced professionals, making us a leading concrete supplier in Nigeria. If you are looking for the best concrete batching plant supplier who understands your requirements, then Camelway is your first preference.