Small Concrete plant for sale
Small Concrete plant applications
Small Concrete plant is used on small construction sites and production facilities, such as the improvement of the city, the construction of houses, cottages and holiday villages.
Small Concrete plant advantages
The advantages of using such equipment are obvious even for the unsophisticated inhabitant. The Small Concrete plant has high mobility compared to mobile concrete plants for medium size. At the same time, the cost of the complex is relatively small. The quality of the concrete mixture production is not inferior to the concrete produced at large stationary plants. Moreover, the concrete mini plant is often more preferable because it can be located in close proximity to the place of production, that is, the mixture comes into operation immediately after mixing, when it is in the best condition. Delivery of concrete mixture to the construction site or casting is made with a special belt conveyor, also part of the plant.
Small Concrete plant models
The most popular is small concrete plants with productivity of 25, 35 and 50 cubic meters per hour.Models are YHZS25,YHZS35,YHZS50.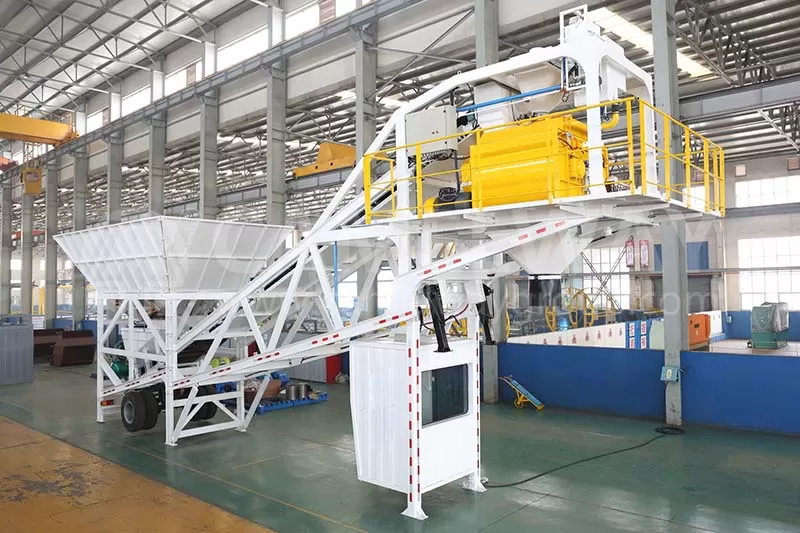 Small Mobile Concrete plant for sale
Small Mobile Concrete plant advantages
The concrete mobile plant does not need any additional equipments for long-term storage of concrete mixture and its maintenance in working condition, which further reduces the cost to manufacturers during construction work. The small concrete plant can be operated anywhere, whether it is in the city boundaries or a new production facility in the country. Transportation of such a complex is much cheaper than a prefabricated complex because it can be used on any tractor to which there is a possibility to connect the trailer.
Mini mobile concrete plant is transported as a trailer and does not require additional modules for storage of ready-made concrete mixture, all that is needed for work are the ingredients and minimum infrastructure.
Mini mobile concrete plant is controlled by automatics, which reduces the burden on staff, improves quality and speed of production. In his work he uses a mixer of gravitational type, which perfectly fulfills the task of mixing the components of the mixture, almost at the level of complex stationary complexes.
Small Mobile Concrete plant applications
Recently, mini mobile concrete plant has become widespread among small and medium-sized business experiencing severe financial hunger in the global financial crisis. Using this technique, you can organize the production of concrete mix in any place, whether it's a small site within the city or a holiday village standing in the wood. Mini mobile concrete plant also proved itself in various works on improvement of city streets and other small tasks.