The mixing process of the concrete mixing plant is a physical reaction instead of a chemical reaction. Generally, the aggregate sand and stone are mixed in proportion and transported to the mixer. At the same time, add the measured powder, cement, admixtures and other water materials and transport them to the mixer. The concrete batching plant evenly mixes these materials to achieve mixing uniformity to produce finished concrete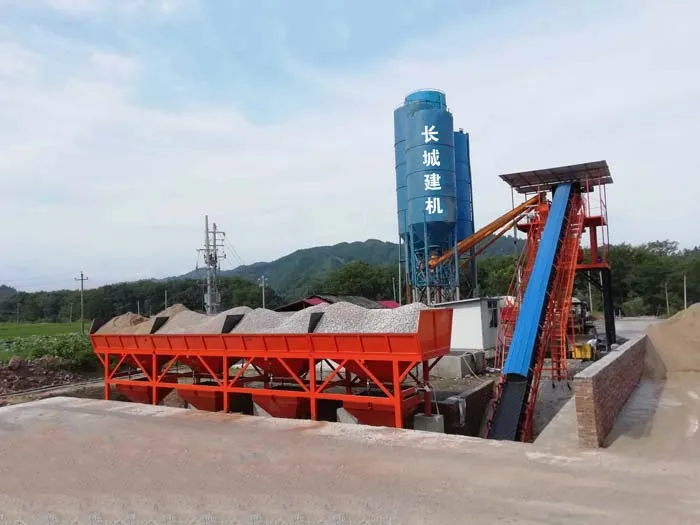 At present, the entire operation process of the large-scale concrete batching plant is controlled by a computer, using automatic batching, automatic conveying, automatic mixing and other processes, which can conveniently produce special concrete.
Camelway Construction Machinery concrete batching plant is a complete set of equipment, equipped with various raw materials storage, supply, batching, mixing and control devices required for concrete production. It produces fresh concrete through centralized mixing through various coagulants, powders, admixtures, additives and water in a certain proportion.
The main mixer of the concrete batching plant is used for mixing: the collection of materials, powder, water and additives are put into the forced mixer according to the set time, and the materials entering the concrete mixer are mixed by two spiral blades on two mutually opposite mixing shafts. The bottom is squeezed, friction, shear, and convection. Thereby, vigorous forced stirring is carried out. When the mixing time is reached, the cylinder of the door opening device of the mixing equipment will open the door, and the blade will push the concrete to the waiting transport vehicle under the concrete mixer, and sample and test a part of the concrete to see if it meets the requirements. After being qualified, it is rolled and closed to enter the next mixing cycle. The finished materials are transported to the construction site by concrete tanker.
First of all, the loader loading material to batching machine
Secondly, the batching machine processes aggregate weighing
Thirdly, the aggregate is feeding which going to waiting bin by belt convey
At the same time, the power, admixture and water processes weighing.
Fourthly, mixing time. Due to safety reason, we are not able to film this process, but we put previous test run machine video over here
Last step, the concrete truck is ready receive concrete