The concrete batching plant provides concrete to the construction site through centralized pre-mixing and long-distance transportation. It is a high-tech building material product that combines modern concrete and construction technology. Modern buildings, highways, railways, bridges, airports are inseparable from concrete pouring. Therefore, concrete batching plants have become good products sold in the above-mentioned industries. In the case of continuous air pollution, we should do a good job in the daily pollution prevention and control of commercial mixing plants. So what pollution should be paid attention to in the daily operation of commercial mixing plants? And how we do the pollution control on concrete batching plant? In this article, we will mainly talk about this.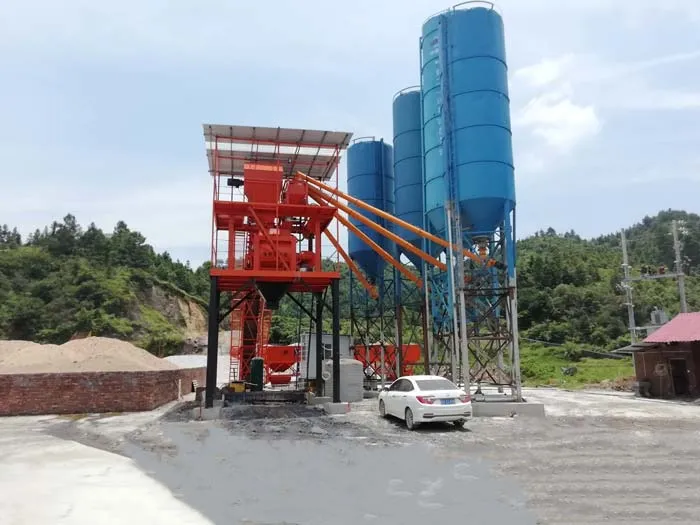 Dust Control
The places where the concrete batching plant is easy to dust are mainly the feed inlet, material yard and powder tank of the concrete batching plant. The mixing building of the equipment selected to prevent dust from overflowing belongs to closed mixing. In order to further eliminate the dust in production, the movable color steel plate is added as the dust surface, and the enclosed dust outlet space is used to control the generated dust to be processed in the enclosed space. Prevent dust from spreading from the source. The sprinkler is mainly installed on the top of the stockyard. When the stockyard is dusty, the sprinkling can be controlled manually or automatically. An automatic high-pressure water curtain can also be installed at the entrance of the stockyard, and it is able to prevent dust from spilling.
Sewage Treatment
Drainage ditch is set up in the concrete mixing station. A three-stage sedimentation tank is set at the end of the drainage ditch. It should equip with a solid-liquid separation device and a filter press device to separate waste materials in sewage for reuse. The precipitated sewage is recycled, so that the sewage in the entire production area can be recycled after being completely treated in order to meeting environmental discharge standards and achieve zero discharge of sewage.
Noise Control
The noise of the concrete batching plant mainly comes from the mixing equipment, air compressors and vehicles of the mixing plant. The noise of the equipment itself can be installed in a closed concrete structure, and maintenance can be strengthened during use. This way not only could able to prolong the service life of the equipment, but also achieve the noise controlling.