HZS ready mixed concrete mixing plant is also called concrete batching plant. It mainly composed of twin shaft concrete mixer, material weighing system, conveying system, material storage system and control system. It can mix fluidity concrete, plastic concrete, hard concrete, and other kinds of concrete. Nowadays, a lot of people ask to buy a second hand small concrete batching plant. Therefore, in this article, we will discuss second hand small concrete batching plant that we sell for.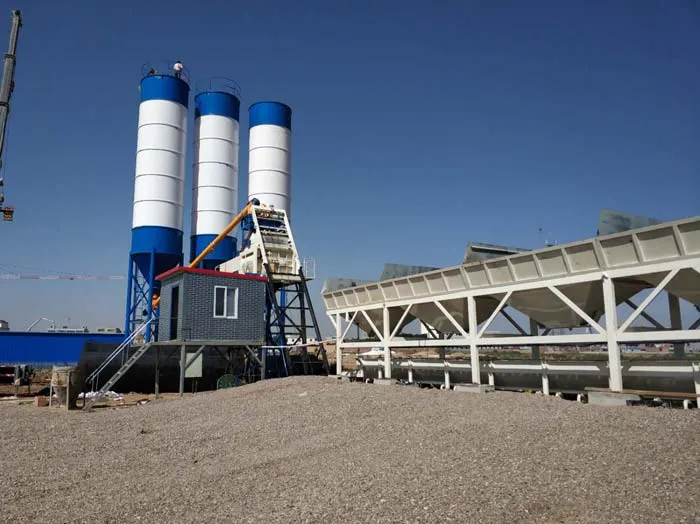 Small Second Hand Concrete Batching Plant
It is widely used in small or medium scale building project, road and bridges projects, procasr concrete plants, etc. It is an ideal choice for producing commercial concrete. HZS stationary concrete batching plant has two feeding ways. One is the hopper type, which is used for lower than 50 cubic meters per hour production. Another one is belt type which used for higher than 60 meters per hour production. As a leader of concrete batching plant manufacturer, Camelway adopt the full automatic control system for mixing plant. This control mode can vividly display the production process on the screen so that the operator can monitor the whole process all the time.
The Component of Second Hand Concrete Batching Plant
Central Concrete Mixer
There are sour seals on the end of shaft, and the using life is longer than other mixer. This way reduces possibility of error which is easy to maintain.
PLD Batching Machine
PLD series batching machine is composed of feed device weighing system and electrical control system. The feeding device is arranged on line. The batching system adopts four sensors to measure.
Screw Conveyer
The screw conveyer is a column shape which has a screw inside of it. And screw circumrotate continually for convey materiel. The equipment adopts originated patent universal feed port which is easy to install.
Cement Soil
The function of air supply system is supply compressed air to all actuating element. It is composed of air compressor cylinder electromagnetism valve and accessories of pipeline.
Control System
The electrical control system of concrete mixing plant can control two set of absolute mixer, cement weighing, water weighing, additive weighing, and aggregate batching system.
About Camelway Manufacturer
If you would like to order a concrete batching plant, you do not want to spend a lot of money on it. Please feel free to ask us. We do offer many kinds of send hand or used concrete batching plant for sale with good quality and competitive price.