Green is the development requirement of construction in the new period, and it is also focus of environmental protection. Advocate green development. The implementation of green construction should also be tailored to local conditions, earnestly implement the relevant technical and economic policies of local governments, and encourage local governments to carry out green project planning. Concrete mixing plant manufacturers have also begun to introduce green concrete mixing equipment to make their own contributions to the environment of our country. In this article, we will discuss HZS60 concrete batching plant for sale in Kenya.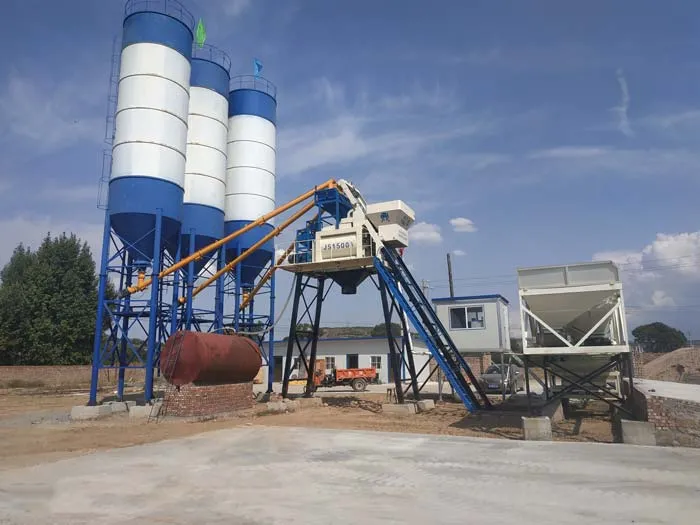 The theoretical output of Camelway HZS60 concrete batching plant is 60 cubic meters per hour, and the actual production capacity is about 50 cubic meters. It equipped with JS1000 mixer and pld1600 batching machine. According to different configurations, it can be divided into fully enclosed environmentally-friendly HZS 60 commercial concrete batching plant, simple engineering mixing plant and standard mixing plant.
The HZS60 concrete batching plant produced by Camelway Construction Machinery adopts electric door opening and unloading, which avoids the shortcomings of raw material residue; the unloading speed is fast and the unloading is clean; maintenance and repair are time-saving and labor-saving, and the appearance is beautiful
The powder conveying adopts pneumatic conveying as the main tank, or pneumatic conveying as the main tank to ensure stable powder conveying. The metering hopper is equipped with an imported vibrator and a pneumatic butterfly valve, tightly sealed, and the discharge is clean and quick.
The configuration of different equipment directly affects the price of mixing plants. At present, the price of HZS60 on the market is between 35,000 and 65,000 US dollars. For detailed parameters and specific quotation, please click our online customer service.