Concrete pump for sale
With the rise of modern industry, the construction method with concrete as the main material has become one of the main structures of the construction industry, which occupies a large proportion in the construction of various projects, making the development of concrete machinery is enduring, and there is a growing situation. Concrete tractor pump is one of the various concrete machinery, used in the delivery and pouring of concrete construction work.
Concrete pump in Sydney, Australia
Recently,a client from Sydney,Australia bought a concrete pump 80 m3/h. Concrete pump diesel is one of the popular and main types of products in our company.Camelway. As a large company, it has many diesel concrete pumps for sale. The HBT80C is just one of the models of diesel concrete pumps. In addition, we also sell HBT30C, HBT40C, HBT60C,HBT90C diesel concrete pumps.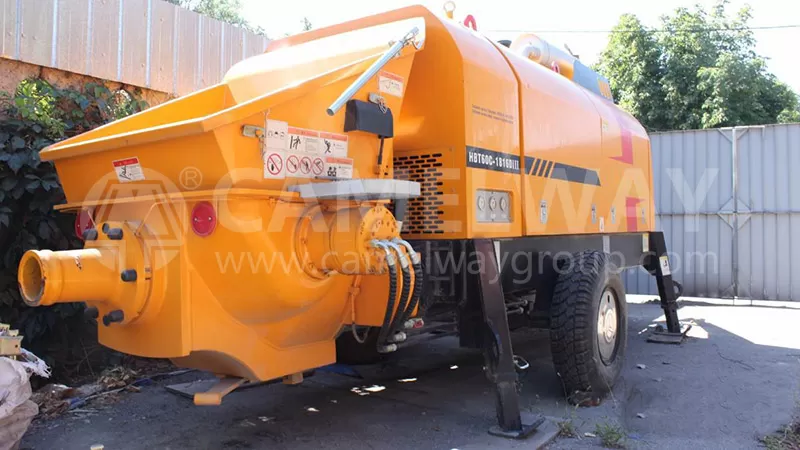 Concrete Pump technical parameters
Items

Unit

Model

Model

Model

Model

HBT30C

HBT40C

HBT60C

HBT80C

All machine performance

Max theoretical bandwidth

m3 / h

thirty

40/26

67/45

84/45

Poppy.

Pumping pressure

MPa

ten

10/8

13/7

16/7

Control valve type




S valve

Concrete cylinder diameter × stroke

mm

Φ140 × 1200

Φ180 × 1200

Φ200 × 1650

Φ200 × 1800

Hopper capacity / loading height

L / mm

400/1100

400/1100

800/1400

800/1400

Outlet diameter

mm

Φ100

Φ150

Φ180

Φ180

Supply system

Diesel engine model




Weifang Delier 4100

Weichai

Wechai

Wechai

Diesel engine power

kWh

56

82

129

176

Rotational speed

rpm

1800

2200

2200

2200

Hydraulic system

Chain type




Open circuit

Pressure in the pumping system

MPa

26

32

32

32

Mixing system pressure

MPa

6-8

ten

ten

ten

Oil tank capacity

L

260

370

560

560

Other parameters

Max.

vertical / horizontal feed distance

m

120/300

120/500

180/1000

260/1200

Max.

aggregate diameter of aggregates

mm

Spot / scree: 10/20

Slick / scree: 40

Slick / scree: 40

Slick / scree: 40

Inner diameter of the supply pipe

mm

Φ100

Φ125

Φ125

Φ125

Dimensions: length × width × height

mm

4500x1750x1600

5000x1850x1700

5800x2000x1750

6300x2100x2350

Total weight

kg

3500

4500

6500

6900