Camelway Concrete Batching Plant sent to Bangladesh
After one month's diligent work, the customized HZS60 belt-feeding concrete batching plant for Bangladesh has been prepared, successfully packed and is waiting for customs clearance and delivery.
Camelway Concrete Batching Plant in Bangladesh
Over the past few years, Camelway has been increasing its technological innovation, and striving to develop concrete equipment suitable for overseas projects to meet the special requirements of foreign customers. The HZS60 concrete batching plant exported to Bangladesh is an engineering type plant with many special requirements, short lead time and high quality.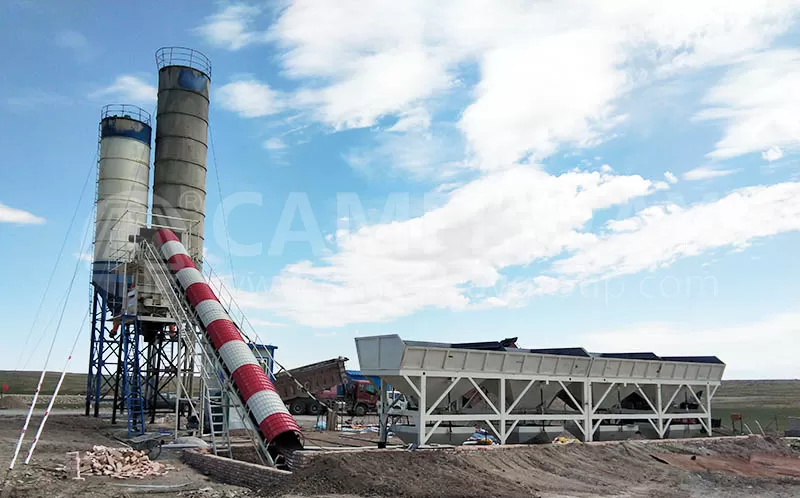 Faced with the new demands from the customers, Camelway faced them positively, made urgent deployment and reasonable arrangement from planning to design, from production to packing and delivery, and strived to bring perfect products to the market, win market recognition and get more repeat customers.
HZS60 Concrete Batching Plant for Sale
HZS60 Concrete Batching Plant Application
The whole set of equipment includes double horizontal shaft mixer JS1000, PLD1600 two-bin batching machine, sheet cement silo and screw conveyor, conveyor belt, microcomputer control room. It can produce plastic, dry and hard concrete with high production efficiency, short batching time and beautiful appearance. It is widely used in large and medium-sized building construction, road and bridge construction and precast plant for concrete products.
HZS60 Concrete Batching Plant Configuration
The theoretical productivity of HZS60 batching plant is 60m3/h, the power of main batching machine is 18.5KW, the capacity of mixer is 1000L, the number of batching machine silos is 4, the batching capacity is 1600L, 2×100t, the capacity of powder silo, the range and accuracy of cement weighing (0~1500)±1%kg, the range and accuracy of additive weighing (0~50)±1%kg, the capacity of aggregate weighing (0~50)±1%kg. The precision is ±2%, the unloading height is 3.8m, and the total installed power is 89KW, in order to meet the production needs.
HZS60 Concrete Batching Plant Profit
HZS60 concrete batching plant has good investment returns, with an annual output of about 120,000 cubic meters of concrete (8 hours of work per day, 300 days of work per year), and an annual sales volume of 60,000 cubic meters, which can earn more than $800,000/year.For detailed investment options, please contact our professional sales managers by phone or email.