Concrete Batching Plant Outline

The use of concrete is important in modern-day construction because the structures derive their strength and stability from concrete. A high-performance concrete batching plant is indispensable to get premium quality concrete conforming to the demand of construction. The concrete batching plant can get quality construction work done in a lesser amount of time, giving quality construction services to its clients in a faster way.
Easy and Efficient Concrete Batching Plant
The concrete batching plant is one of the most important types of equipment in the construction industry. It becomes necessary that the plant is efficient and speedy in order to complete a construction project as soon as possible. All ranges of Camelway's concrete batching plants are designed with the concept of simple and efficient, regardless of what type, aiming to simplify the production process while ensuring high-quality concrete with high productivity. There are various optional types of concrete batching plants to meet diverse and stringent demands, and solutions can also be tailored according to the special needs of the construction. With a modular designed structure, cutting-edge manufacturing, and top-quality components from leading international brands, the concrete batching plant stands out rapidly around the world.
Concrete Batching Plant Diverse Types for Concrete Constructions
There are mainly two types of concrete batching plants available to suit the specific needs of the concrete construction industry which are given below: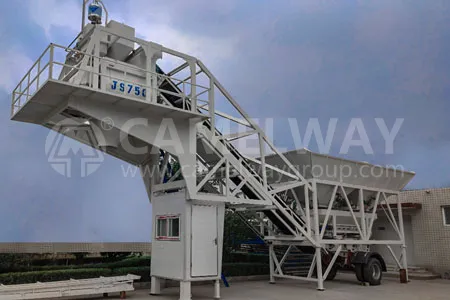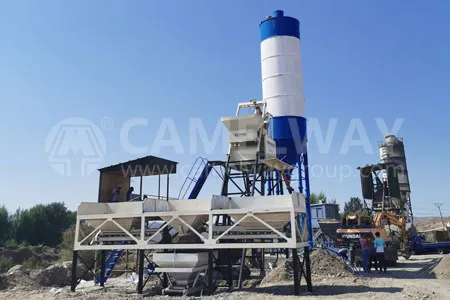 Mobile concrete batching plant
The mobile concrete batching plant is also known as the portable concrete batching plant is productive and cost-effective to produce concrete in a short space. It is easy to erect and dismantle these plants swiftly. The usually comes with axles, brakes, etc. Usually, a mobile concrete batching plant is very compact in its overall size. It can be dismantled and reassembled in a few days. This advantage makes it easy for these mobile plants to change sites frequently. It helps reduce transportation costs and hence it is preferred over stationary versions.
Stationary concrete batching plant
A stationary concrete batching plant is stationed at settled building sites for most of its lifetime. It is that type of plant which will not be preferred for movement time and again. The modules and components of Camelway stationary concrete batching plant are containerized and easy to assemble and move. Since the size of the components is heavy, they are fixed in one place and not moved for years. The reputation that these machines' capability has achieved is insurmountable. Thanks to its high productivity and time-efficient, it appears frequently on the most significant infrastructure project.
Concrete Batching Plant Manufacturer
Regardless of the type of concrete batching plant, a reasonable choice should be confirmed according to the actual circumstances of the construction site. Camelway is a professional concrete batching plant manufacturer with 30 years of rich experience. Over the years, with solving problems concepts in mind, we have won vast support and praises from global countries.