There are lots of demands for concrete in construction projects in Ghana, so many users from Ghana will choose small concrete batching plants which have simple structure, simple configuration, low investment and high production efficiency. There are many types of small concrete batching plants. Which one should be selected depends on the customer's requirements. If you will use it for personal investment, HZS25 is a best choice. The HZS25 small concrete batching plant has flexible layout, short manufacturing and installation period, and low one-time investment cost, which is very suitable for personal investment. In this article, Camelway Construction Machinery will give you a detailed explanation that 25m3/h small concrete batching plant for sale in Ghana.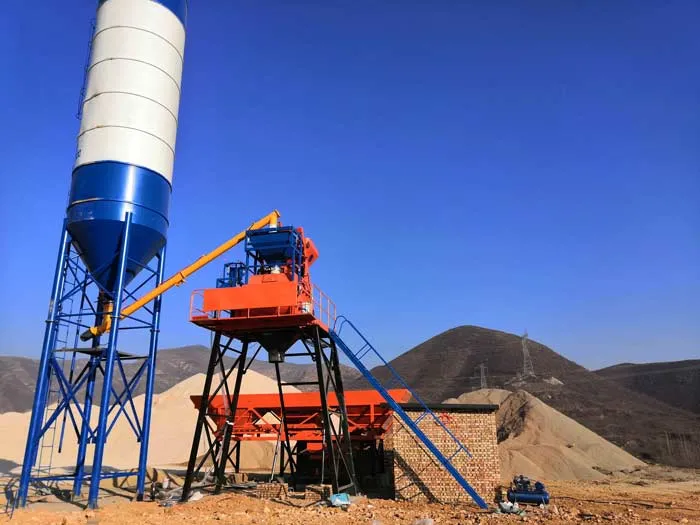 Things You Have to Consinder Before Building a Small Concrete Batching Plant in Ghana
Site selecting. First, select the site for the small concrete mixing plant to built. The site is mainly around the town and convenient transportation. According to the actual situation, it is necessary to ensure that sewage discharge does not affect crops and road traffic. A set of small concrete batchign plant the construction site and other equipment, tanker parking, office area, etc. generally cover an area of out 4 to 5 acres.
Foundation building. Secondly, the foundation construction must be arranged before the purchase of a small concrete batching plant. This is very important for the construction. The safety and stability is a problem that cannot be ignored. This length of time needs to be determined according to the regional seasonal climate, weather changes and other factors, and generally does not exceed one month. After finishing the preliminary work, we can purchase concrete batching plant.
The Price of 25m3/h Small Concrete Batching Plant in Ghana
How much to invest in a 25m3/h small concrete mixing plant in Ghana is not a fixed number. It has a lot to do with the configuration you choose. If you are sure about the configuration of small concrete mixing plant you want, you can call the manufacturer to consult the price.
Where to buy 25m3/h Small Concrete Batching Plant in Ghana
There are many manufacturers of concrete batching plants in the market. As a leader of concrete batching plant manufacturer, Camelway reminds users: We must resisit to the principle of quality. Only equipment with excellent workmanship and excellent performance can ensure the efficient work of high-quality concrete. The small concrete batching plant produced by Camelway has good quality and competitive price. It can also be tailored according to the specific needs of users. Please feel free to contact us if you have any question about your need.