Camelway has been operating on the South Africa market for many years, and during this time, it has become a reliable partner and has earned the trust of customers by fulfilling orders for concrete batching plants on time and high quality. In this article, we will mainly discuss HZS60 concrete batching plant price in South Africa.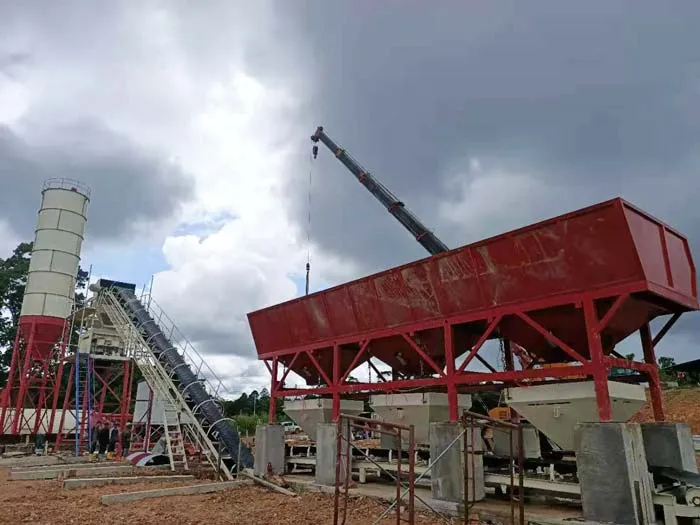 About HZS60 Concrete Batching Plant in South Africa
HZS60 concrete batching plant refers to the batching plant with an hourly output of 60 cubic meters. The whole set of equipment of HZS60 type mixing plant consists of aggregate batching machine, aggregate belt conveyor, powder silo, screw conveyor, forced twin-shaft mixer, metering system, water supply system, air circuit system, control system, main frame, etc. It adopts combined structure and modular unit, which is very convenient for installation and relocation, and can produce plastic, dry hard concrete and other kinds of concrete, which is suitable for small-scale construction site, precast plant, and small commercial concrete production plant and road maintenance. The theoretical productivity of the HZS60 concrete batching plant is 60m3/h, the central mixer power is 37KW, the nominal capacity of the mixer is 1000L, and the batching capacity is 1600L, 2×100t, the powder bin capacity, the cement weighing range and accuracy (0~1500)±1%kg, admixture weighing range and accuracy (0~50)±1%kg, aggregate weighing accuracy is ±2%, discharge height is 3.8 meters, total installed power is 89KW, In order to meet production needs.
HZS60 Concrete Batching Plant Price in South Africa
To be honest, the cost of a concrete batching plant includes: equipment, raw materials, transportation, wages, utilities and other costs. The production of 60 cubic meters per hour is theoretical productivity. It limited by a lot of factors. Therefore, the price is varied depends on many kinds of reasons. If you would like to know the detailed price or you have any other question about product, please feel free to contact us with your request.