Camelway Machinery Group manufactures and sells modern & advanced concrete batching plants. The joint use of the most modern computer-aided design systems and practical operating experience that allow us to design and manufacture high-quality concrete batching plants with optimal technical and economic indicators. The production of concrete plants, concrete mixer is carried out in Zhengzhou, China.
The offered model range of concrete plants produced by Camelway, a wide range of different types is presented, satisfying the demand of both small and large construction companies in China as well as counties around the world. Camelway offers stationary and mobile concrete batching plants with different capacities (from 20 to 120 cubic meters of concrete per hour). The concrete batching plant is equipped with a modern strain-gauge weighing system with automatic control of all mechanisms, which makes it possible to obtain high-quality concrete and cement mixture.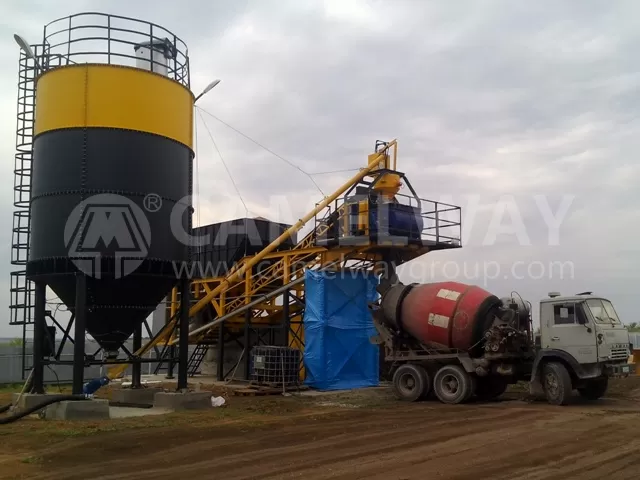 Technical specialists from Camelway Group constantly monitor the needs of the construction market, and the joint use of experience and modern design programs allows us to design and manufacture concrete batching plants that meet any requirements of the construction business.
Mobile Concrete Batching Plant of Camelway
Taking into account the economic requirements for concrete production, concrete plants in mobile design are attracting more and more interest from the majority of companies. The mobile batching plant produced by Camelway is transported on trailers, assembled in the shortest possible time, does not require additional costs for site preparation and has minimal energy consumption.
Stationary Concrete Batching Plant of Camelway
Stationary concrete batching plants of Camelway are for long terms projects and permanent facility, suitable for construction companies, concrete supply companies and precast concrete companies. Camelway offers stationary batching plants in 25 to 120 cubic meters per hour, suitable for high load uninterrupted work.
Why choose us as your batching plant supplier?
As a batching plant manufacturer with more than 30 years of experience, we believe that we will be your best partner. Our experience gives us unprecedented confidence that we will help you realize your business plan perfectly.
Rich equipment manufacturing experience to ensure equipment safety and stability.
Satisfactory price, you do not have to pay for excessive brand premium.
Excellent after-sales service, we provide a 2-year warranty.

Super cost-effective, we are not a cheap substitute manufacturer, our products have the quality of international brands.

For any questions regarding concrete equipment, you can contact us at anytime. Our managers will help you select for you a specific model of a concrete batching plant that will fully meet your technical requirements.