Skip Hoist Concrete Batching Plant is a stationary wet mix concrete manufacturing plant, a distinctive feature of this type of concrete plant is skip hoist, which is lifted by an electric winch along guides and by tipping over unloading the contents in it. The skip is a metal bucket with a stably attached block on the back and wheels fixed on the axle.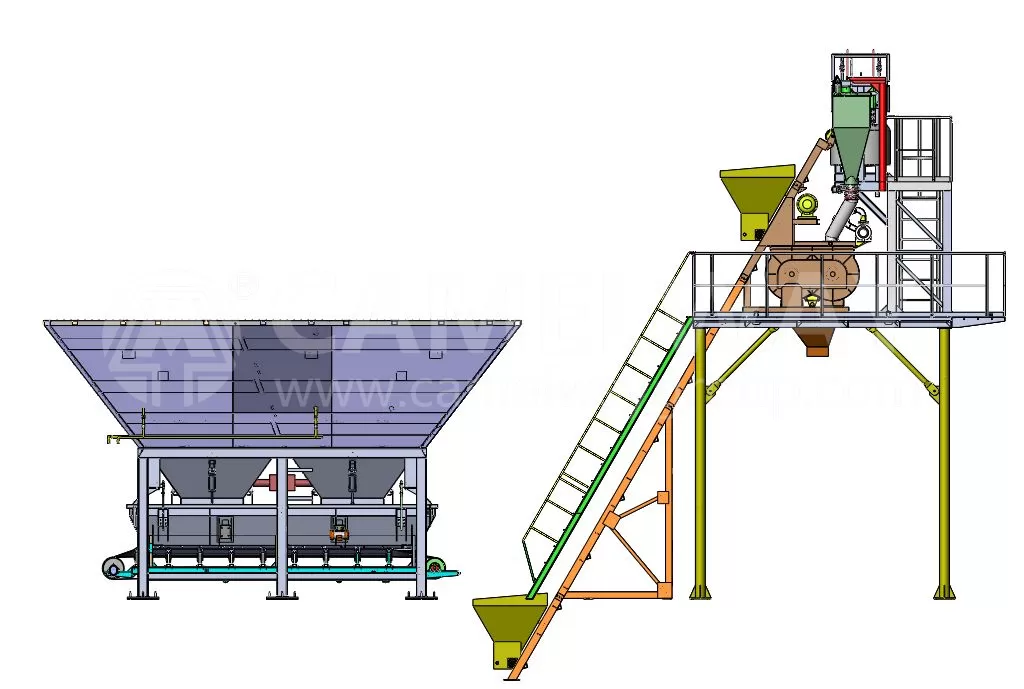 Advantages of Skip Hoist Concrete Batching Plant
Saving on the Land space of the construction site allocated for the installation of concrete batching plant. A skip hoist concrete batching plant makes it possible to locate a concrete mixing plant on an area that cannot accommodate a conveyor belt, namely from 90 to 120 square meters.
Relatively low energy consumption, which has a significant impact on the final cost of a concrete mixing plant;
Compactness and rational arrangement of equipment, which also allows concrete manufacturers to save on the space allocated for the concrete plant.
Easy to install and use. This feature allows skip hoist concrete plants to take the place of one of the modern standards for concrete production.
The cost of the skip hoist batching plant is much less than the cost of the conveyor belt batching plant, which also reduces the cost of operating the plant.
Disadvantages of Skip Hoist Concrete Batching Plant
Low production capacity, not suitable for large applications.
Stability and reliability are not as good as belt type batching plant.
Camelway Skip Hoist Concrete Batching Plant

Camelway offers 4 standard models of skip hoist batching plant, which are HZS25, HZS35, HZS50 and HZS75, Their theoretical production capacity are 25 cubic meters per hour, 35 cubic meters per hour, 50 cubic meters per hour and 75 cubic meters per hour.
For concrete batching plants with a mixer capacity bigger than 1.5m³, we recommend using belt type batching plant. If there is not enough land area, we can also help you customize it into skip hosit type.