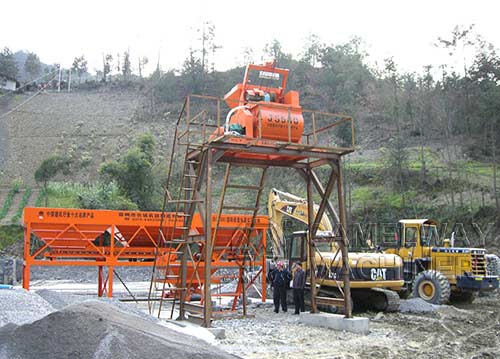 Cement silo is one of the most important components in the concrete batching plant.The whole cement silo consists of tank steel structure, legs, ladder, guardrail,dust removal equipment,level gauge and other components. The appearance of the cement silo is a cylindrical structure, the bottom of the four legs to support the entire tube body, and the whole warehouse is steel structure welded together;there is dust removal equipment and pressure relief valve on the top.The productivity of the concrete batching plant is linked to the cement silo. So,we are usually most concerned about the safety of the cement silo.
In practice,some customers may not listen to the suggestion from manufacturers. In order to save cost,some of them will reduce the height of the cement storehouse legs that may cause the discharge port close to the ground.The spiral conveyor that deliver the bulk material is too slanted and can not achieve the desired effect.In some cases, the cement storehouse is outrigger than the general, which is generally not recommended by the manufacturer.Because if the cement warehouse legs are too high,there will be many impacts,such as the security risks.The legs play the crucial role to support the whole cement silo, if it is too high, it will decline the safety factor and can be troublesome when check,clean and repair.
Followings are some suggestions for safe operation of cement silo in the concrete batching plant:
1)If the legs for the cement silo are too small,we suggest you can build a cement base on the present base according to the suitable height and actual height.Then weld the cement silo on the legs so that it can make up the height.
2)If the legs for the cement silo are too high,we suggest you to cut off the legs.But it should be operated by the professional workers.Otherwise,the legs are not flat.This is a security risk that may cause the collapse of the cement warehouse.