Mobile Concrete Batching Plant in Ethiopia
Mobile Concrete Batching Plant is preferred by Ethiopian concrete suppliers due to its flexible configuration, ultra mobile, and minimum space requirements, which is suitable for various sites such as roads, bridges, ports, and harbors as well as the remote regions that needed to transfer frequently. HZS35 mobile concrete batching plant is one of the best-selling plants in Ethiopia, and up to now, more than 20 sets of HZS35 mobile concrete batching plant has been exported to Ethiopia.
Mobile Concrete Batching Plant Components
Compulsory type concrete mixer
Aggregate batching machine with 2/3/4 bins
Water, cement and addtive scales
Weigh hoppers, aggregate hoppers
40T/60T/80T cement silo
Screw conveyor
Pneumatic system
Integrated control system
In addition to the plants manufactured, we offer a comprehensive range of services, including calibration of plants, after-sales maintenance, and a wide range of spares and accessories for said plants.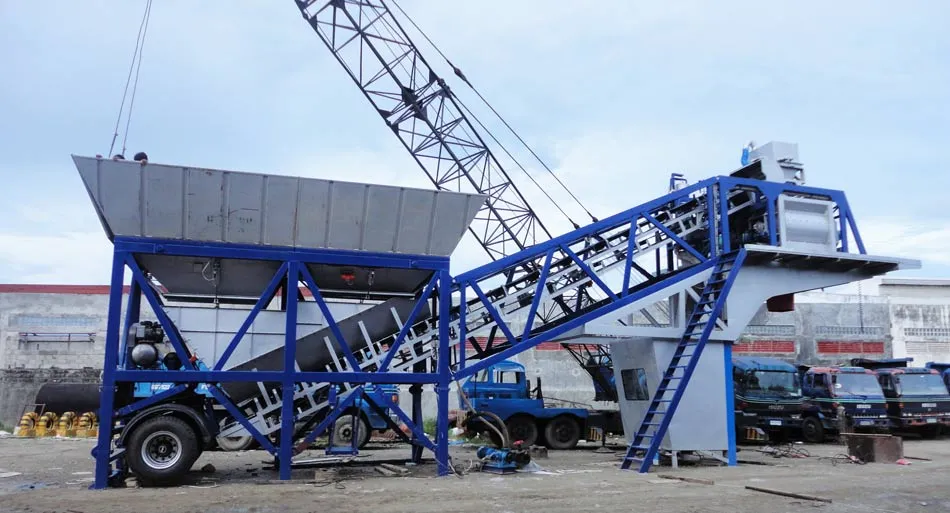 Mobile Concrete Batching Plant Advantages
Easy installation and disassembly thanks to its ingenious design.
High mobility features along with high concrete output offered.
Lower economic cost with optimum production performance.
Needs less place for construction area Good mixing effect and long service life.
Achieve various strict and specific bespoke.
Easy and economical shipment with demounted design.
Get return in a short term.
Capacity of Mobile Concrete Batching Capacity for Sale
Camelway Group manufactures different types of mobile batching plants with different capacities. Below you can find that we offer four different capacities for concrete batching plants.
Concrete batching plants with different capacities will be matched with corresponding concrete mixers with reasonable capacity, namely JS500, JS750, JS1000, JS1500, and the number of aggregate bins will also be customized according to requirements.
Mobile Concrete Batching Plant Price
Aiming to provide profitable mobile concrete batching plant for our clients, Camelway is confident of being elected by any customers who have learned about because of its has been recognized around the world. You can get the reference price on our website, but the exact price can only be obtained after we communicate because the many optional configurations will affect the price. Camelway keeps maintain to perfect the manufacturing concrete batching plant with the concept of solution-oriented service in mind.
By the way, it's time to buy a mobile concrete batching plant, isn't it?