Mini Concrete Batching Plant for Sale
Mini Concrete Batching Plants - small-sized production equipment for the production of concrete and concrete mixtures. The compact sizes, short terms of installation and high mobility, favorably distinguish this type of equipment. Due to the small size and ergonomic placement of process equipment, the mini-concrete plant on wheels can be mounted on sites with limited free space. If you need to change the location of production facilities frequently, the mobile mini-concrete plant is used. The time of its installation and commissioning is not more than one day, and transportation can be carried out with a truck tractor or on wheels.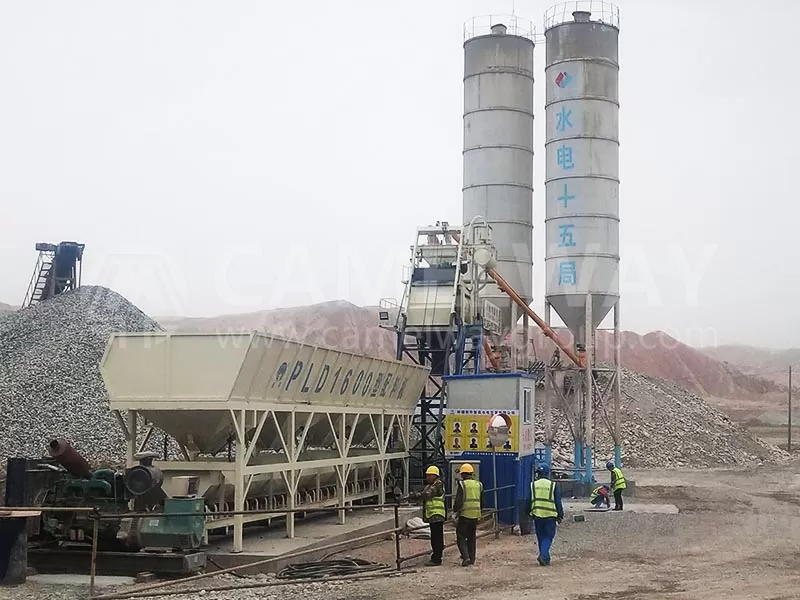 Mini Concrete Batching Plant Composition
Traditionally, the mini-concrete plant consists of a whole complex of interrelated technological equipment:
Dispensers of water, chemical additives, cement, aggregates.
Transportation mechanisms: skip elevators, belt or screw conveyors.
Operator's control panel.
Concrete mixing plant.
Silo for cement, chemical additives and aggregates.
Tank with water reserve.
Heating centers, for operation in conditions of negative ambient air temperature.
For each specific model of mini plant, the complete set of equipment may vary in type and performance. In order to enhance the ease of operation, mini-concrete plants can be equipped with additional equipment: filters, heaters and other accessories.
Mini Concrete Batching Plant Advantages
Mini Concrete Plant manufactured by Camelway is characterized by the following advantages:
Affordable price of main and additional equipment in comparison with offers of other manufacturers.
High speed of mounting/dismounting due to the modular design and simple types of connection.
Fully automation of production processes allows the use of a minimum number of service personnel.
The mini plant can operate year-round due to the acquisition of additional equipment.
There is no need in capital preparation of foundation and foundation for installation of production equipment.
The cost of operation of the mini-concrete plant is much lower than its large-size counterparts.
What is necessary to operate the Mini Concrete Batching Plant?

For full operation of mini concrete production, you should meet the following conditions:
Production site with the main communications: water, electric power, access roads for the delivery of raw materials and selection of finished products.
Mini-concrete plant has been purchased and assembled at the previously prepared site.
Stable and regular supplies of raw materials: crushed stone, cement, gravel, sand, chemical additives.
Prepared and trained staff to service the production equipment.
The main and auxiliary technological equipment has been adjusted.
Camelway offers a wide range of models of concrete plants from the world famous Chinese manufacturer. Perfect quality of production combined with high productivity and mobility, which makes mini-concrete plants Camelway one of the best in the world.