The JS1500 concrete mixer in Camelway Construction Machinery can mix 75 or 90 cubic meters of concrete per hour. The concrete mixer is widely used in industry. The transmission device adopts two planetary reducer transmission, with compact design structure, stable transmission, low noise and long service life. In JS1500, "J" refers to the mixer in the JS 1500 compulsory mixer, S refers to the double horizontal shaft, and the 1500 can mix 1.5 cubic meters at the same time. The technology of the JS 1500 concrete mixer produced by our factory is at the forefront of the industry.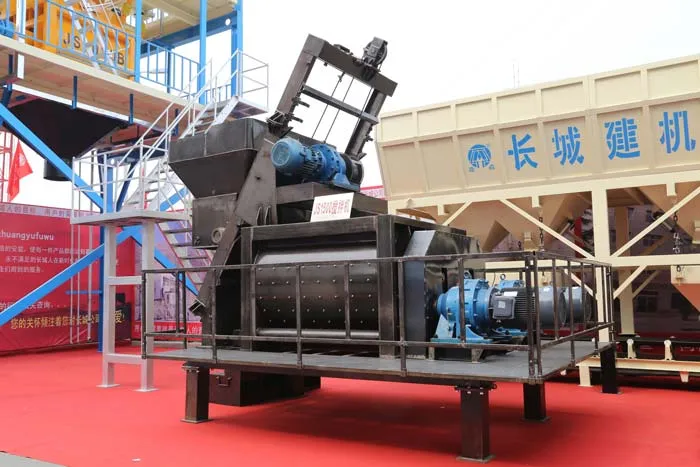 JS1500 concrete mixer is used in concrete batching plant which includes two types, one is HZS75 concrete batching plant with hopper loading, and the other is HZS90 concrete batching plant with belt conveyor. JS1500 concrete mixer used methods are different, so the feeding methods are also different. Among them, HZS90 concrete batching plant has a relatively large area, a large output, and a large investment. The HZS75 concrete batching plant has a small area and a small output, and the investment is also small.
The complete equipment of JS1500 mixer includes JS1500 twin-shaft mixer and PLD 2400 batching machine, aggregate belt conveyor feeding system, waiting bin, main structure, external sealing structure, screw conveyor, fly ash metering system, water metering system, mixing material metering system, cement silo, cement metering system, gas control system, microcomputer control system and control room, etc.
The complete set of equipment for the JS1500 concrete mixer has good investment benefits. The annual output of concrete is about 200,000 cubic meters (8 hours a day, 300 days a year). How much does it cost to building a mixing plant? And what is the price of twin-shaft concrete mixer. This is a problem that many customers care about. However, due to different policies in different places, and different types of mixing equipment, configurations or manufacturers, there will be certain differences in investment costs. The specific equipment configuration of the 1500 concrete mixing plant produced by different manufacturers and the brand quality of the selected components will be very different. For specific configuration and investment plans, please consult a professional investment consultant of Camelway Construction Machinery.