Concrete Batching Plant for sale in Caloocan, Philippines
CAMELWAY has extensive experience in projects for the construction of airport complexes, roads and highways around the world, which has implemented another road project in Caloocan, Philippines, supplying a concrete batching plant to one of the leading companies in the construction and reconstruction of runways in Caloocan, Philippines and the CAMELWAY.
high-quality concrete batching plant equipment
In the course of negotiations, the customer presented a number of requirements for the concrete batching plant equipment in order to ensure the production of high-quality concrete according to the recipe, where various types of additive are used.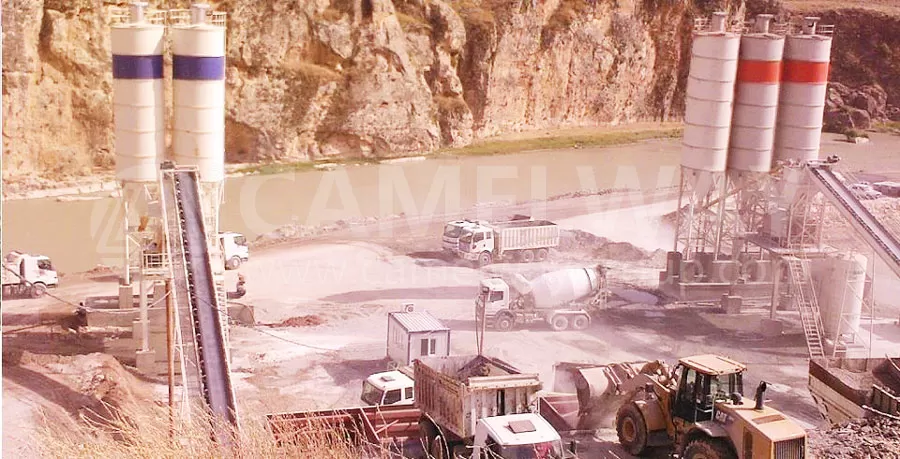 Concrete Batching Plant in Philippines
Additives, and the mixing time reaches 72 sec. Thus, representatives of the Caloocan, Philippines company visited the CAMELWAY factories, where a high level of production capabilities and quality of concrete batching plant equipment were demonstrated, and all those units and additional components that would ensure the production of high-quality concrete for the project were clearly shown.
Stationary concrete batching plant for sale
As a result, the order was placed for a stationary concrete batching plant at HZS120 in a special configuration with enlarged hoppers and a system of precise inert feeding. A special concrete mixer for the production of road concrete is installed at the concrete batching plant: with reinforced electric motors, mixing blades of a special shape, made of wear-resistant HARDOX steel, as well as a wide gate to ensure quick unloading of ready-made concrete dump truck. An even distribution of water in the batch is achieved by a powerful concrete pump and a water distribution line with nozzles around the perimeter of the concrete mixer.
Concrete mixer pump
For precise feeding of even small amounts of additive additives for special purpose, a supply line with a concrete pump and a counter is provided. Besides In addition, for fast feeding of the dosed cement into the concrete mixer, the cement dispenser is equipped with two discharge openings. All these units will provide not only the production of special concrete for the runway, but also an effective cyclogram of the concrete batching plant performance.