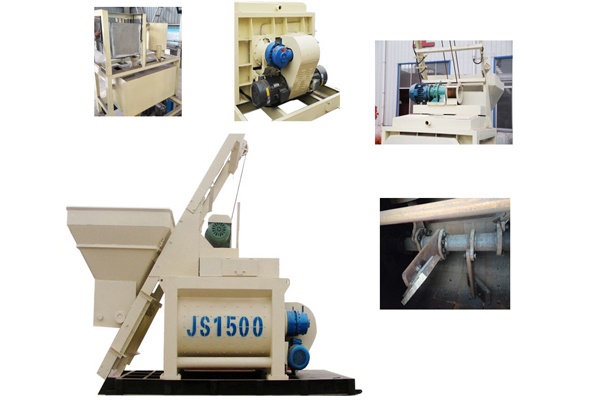 1.5 m3 concrete mixer at the site is the JS1500 concrete mixer machine in CamelWay Machinery. This concrete mixer machine can produce 1.5 cubic meters concrete for per batch. It is made up of twin horizontal shafts, twin motors and reducers, which is also highly used in the industrial and civil engineering project, as main support mixer in HZS75/ HZS90 concrete batching plant, working with PLD 2400 batching machine and kinds of aggregates.
Features of 1.5 m3 concrete mixer at a site in Kenya:
1. JS1500 concrete mixer includes Twin-motors and Reducers, which selects well-known brands in China
2. Twin Reducer option: Colloidal reducer/Planetary reducer
3. Twin horizontal shaft compulsory mixer with high capacity but less time
4. Mulch-sealing structure on the shaft end sealing effectively prevents leakage
5. Automatically lubricating oil pump
6. Adjustable hydraulic discharge the angle of door for function use
7. High wear-resistant chromium-manganese alloys plates and blades
8. Total weight of 11.2 tons with high level of manganese steel material
9. Discharge height is 4.2m
10. The mixer is registered in China Well-Know Trademark with ISO, SGS certificates
To get a price of 1.5 m3 concrete mixer at a site in Kenya, you can Contact Online Customer Service or Leave Us an Inquiry,our sales manager who is in charge of your market will reply you as soon as possible within one workday.