How much does it cost for a concrete batching plant in rural areas? Small and medium sized concrete batching plants are mostly used in rural construction. They have the characteristics of low investment cost, quick return on costs, and high returns. They have been promoted and developed rapidly in the past five years. So how much does it cost to build a small concrete batching plant in the countryside? In this article, we will talk about this.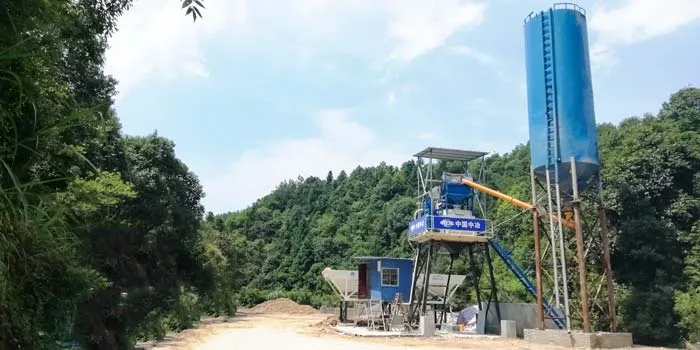 The small concrete batching plant adopts twin-shaft concrete mixer with screw conveyor. It not only has good mixing performance, but also being able to deal with all kinds of concrete with excellent mixing effect such as hard or plastic concrete. Moreover, it has simple structure, convenient disassembly and convenient construction. It is suitable for all kinds of large and medium-sized prefabricated component factories and construction projects such as highways, bridges, water conservancy, docks, etc.
The Application of Building a Small Concrete Batching Plant in Rural Areas
The construction of small concrete batching plants in rural areas generally has two application: They are engineering purposes and selling commercial concrete. If it is used as an engineering concrete batching plant, it is necessary to consider the amount of concrete required by the project and the construction period, and then determinng the appropriate model. if it is used as a commercial mixing plant, the local concrete demand needs to be considered.
The Price of Building a Small Concrete Batching Plant in Rural Areas
For build a concrete mixing plant in rural areas, the site problem is not as huge as the urban construction. TThe labor cost is lower, and the transportation cost of materials such as sand, gravel and cement is not high. The common concrete batching plant equipment models in rural construction include HZS25, HZS35, HZS50 and HZS60. And the price is depends on the model type and customer's request.
Small Concrete Batching Plant Manufacturer
Camelway has 36 years of development experience. It has various types and full models of large, medium and small concrete batching plant equipment. It not only has competitive price, and the quality is pretty high. Camelway provides a complete after-sales service system as well.