In many parts of the world, selling concrete is a profitable business. For beginners, setting up a large concrete supply company has a high risk, so we recommend setting up a small concrete batching plant to begin your concrete business.
Small Concrete Business Advantages
More flexible, not only can externally supply commercial ready-mixed concrete, but also increase other equipment to produce concrete blocks, precast parts, etc.
The initial investment cost is low. Precisely, the small mixing plant occupies a small area, so the land cost is low, and the equipment price is relatively low.
Easier to sell. If you want to end your investment, small equipment is easier to sell.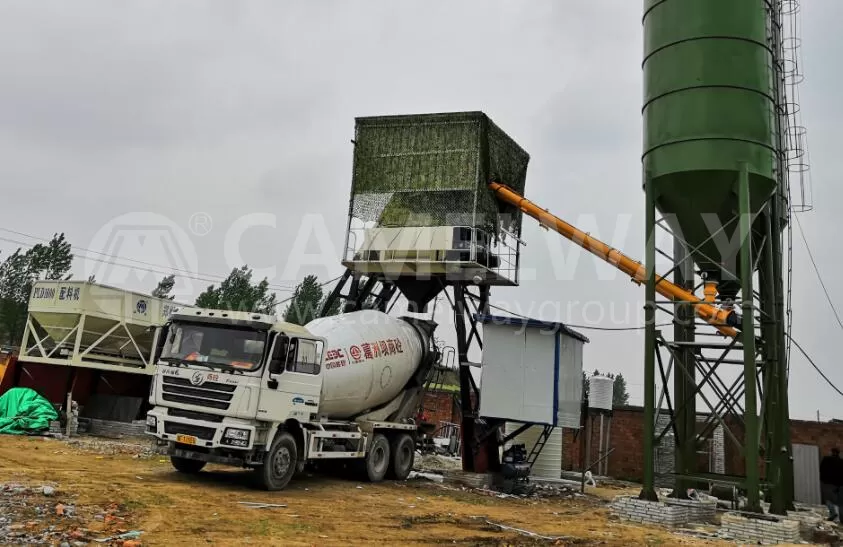 How to Start a Small Concrete Business?
First of all, you should find your target market. If you can find customers before purchasing the equipment, then the business will be 80% successful.
Secondly, find a place to start your business, an open land is needed to install equipment and store raw materials. The area of the land is positively related to the scale of the mixing plant. We recommend preparing more than 2,000 square meters of land for the small mixing plant for better business development.
Thirdly, find a good equipment supplier, you need to buy a concrete mixing plant, optional equipment includes concrete mixer trucks, concrete pumps, etc. These suppliers generally come from Europe or China. Even European equipment is of high quality, the price of their machine is quite expensive. Chinese equipment now has the same quality as Europe, and the price is very competitive. It is preferred by many customers in developing countries.
Fourthly, find a supplier of raw materials, including cement, sand and gravel, additives, etc. For small business, we recommend purchasing from other suppliers rather than producing it in your own. Raw materials are a long-term investment. It is crucial to find suppliers of raw materials with high quality and low prices.
About Camelway Group
Camelway Group is an ancient equipment manufacturer, helping customers start concrete business. Camelway sells more than 200 sets of concrete batching plants every year, we are confident to help any customers develop concrete business, you are most welcome to contact us anytime for more information or quotation.