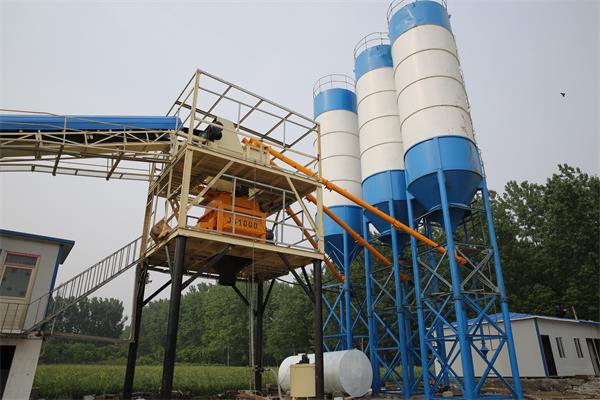 Characters for concrete batching plant 60 cum per hour:
1.Modular structure can install and remove quickly, which is easy to transport.With a variety of layout, it can adapt to the requirements of different venues.
2.Double axle forced JS1000 concrete mixer is used. Good mixing quality and high production efficiency make it an ideal equipment for dry hard, semi-dry hard, plastic and various proportions of concrete.
3.All measuring units of the measurement components and control components are imported components under computer control, and can fully ensure accurate measurement and stable performance.
4.All powder materials, from feeding, ingredients, metering, feeding the mixing material are carried out in a closed state.The main mixing station adopts high quality dust collector, and the mixing machine and belt conveyor are packed and sealed, which greatly reduces the pollution of dust and noise in the environment.
5. Each maintenance and repair parts are equipped with a platform or ladder, the mixer cleaning is equipped with high-pressure pump cleaning device.
6.The whole machine adopts double computer control system, which can automatically ensure the continuous production control when the two machines are switched. Dynamic panel display can make operators clearly understand the various parts of the operation.
7.Electronic control system components using imported components, the overall working is stable and powerful. Abnormal conditions and automatic fault detection adopt the use of text, sound, light, alarm prompts to facilitate troubleshooting.
We can supply capacity 500 liters to 3000 liters concrete mixer and 25 cubic meters to 180 cubic meters per hour concrete batching plant, please leave us an inquiry or contact online customer service.