Concrete Batching Plant Manufacturers in West Africa
Continuing to make a significant contribution to the development of the construction sector and stride forward with confidence in Africa, Camelway launches several concrete plants at once for its regular customer, one of the largest construction corporations in the world, The client's ongoing project is the construction of the SNDKR Project with a budget of US $ 0.9 billion in Dakar. The state-of-the-art first-class port is expected to accommodate the largest container ships in the world, increasing the country's competitiveness on the global stage and expanding trade flows and connections throughout West Africa.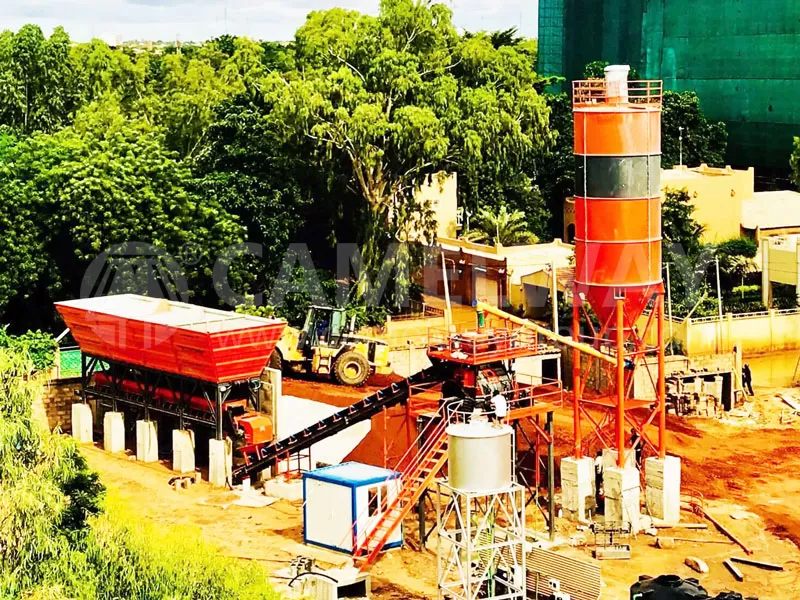 Compact concrete plant for sale West Africa
The compact concrete plant, the special configuration concrete plant, as well as the soil mixing plant will ensure the production of concrete of the required properties.
50 cubic meters concrete batching plant
Ready-mix concrete for construction is produced in a compact concrete plant with a Twin Shaft Concrete Mixer for a supply of 50 cubic meters. Compact concrete, the production of sidewalk tiles is carried out at the concrete batching plant with two planetary mixers with double discharge. This concrete plant is also equipped with additional features such as a precision aggregate dosage system and sand moisture sensors to control the amount of water supplied. In addition, a system for ready-mixed concrete has been installed, which includes bins under the concrete mixers and a conveyor system for feeding concrete directly to the vibrocompression equipment, thereby ensuring a continuous and well-coordinated production process. The third installation for the project is a soil mixing plant, which is an ideal for creating a solid and reliable foundation for the future platform. It is a stationary plant with a continuous mixer that can produce up to 200 tons / hour of a concrete mixer.
high-quality concrete equipment in African
Well-established on the African continent as a reliable manufacturer of high-quality concrete equipment, Camelway clearly reflects the strong position of the global brand in its sector.